Emergency HVAC Services in Madeira, OH
Having heat in our homes while winter rages outside is priceless. But when our furnace breaks down during the night or during a holiday it always comes with a cost. If your home heating system is on the fritz and the winter weather is bone-chilling cold, you have a company you can call on any time any day that responds quickly to residential heating emergencies throughout the Greater Cincinnati Ohio area.
Madeira Heating & Air offers 24/7 emergency heating and air conditioning repairs throughout Southwest Ohio with fast dispatching after hours and on weekends and same-day scheduling for home heating and air conditioning emergencies. There is always a live person answering our phone lines — 365 days a year including weekends and holidays.




100% Satisfaction Guaranteed
Have an Emergency? Schedule Madeira Heating & Cooling Now!
The most common cause of an emergency with an HVAC unit is a water leak, either from your furnace or your home cooling system. Leaks are especially dangerous in the winter because your home heating system is essential during this time of year. Other emergencies often involve anything electrical within the HVAC system itself.
Other emergency situations include the following:
Heating and/or cooling issues that you can't stop by cutting the power directly to your unit.

Issues that pose an immediate risk or danger to you or any of your family members.

HVAC problems that, despite seeming to be minor at the moment, are things that can escalate into something more serious if ignored.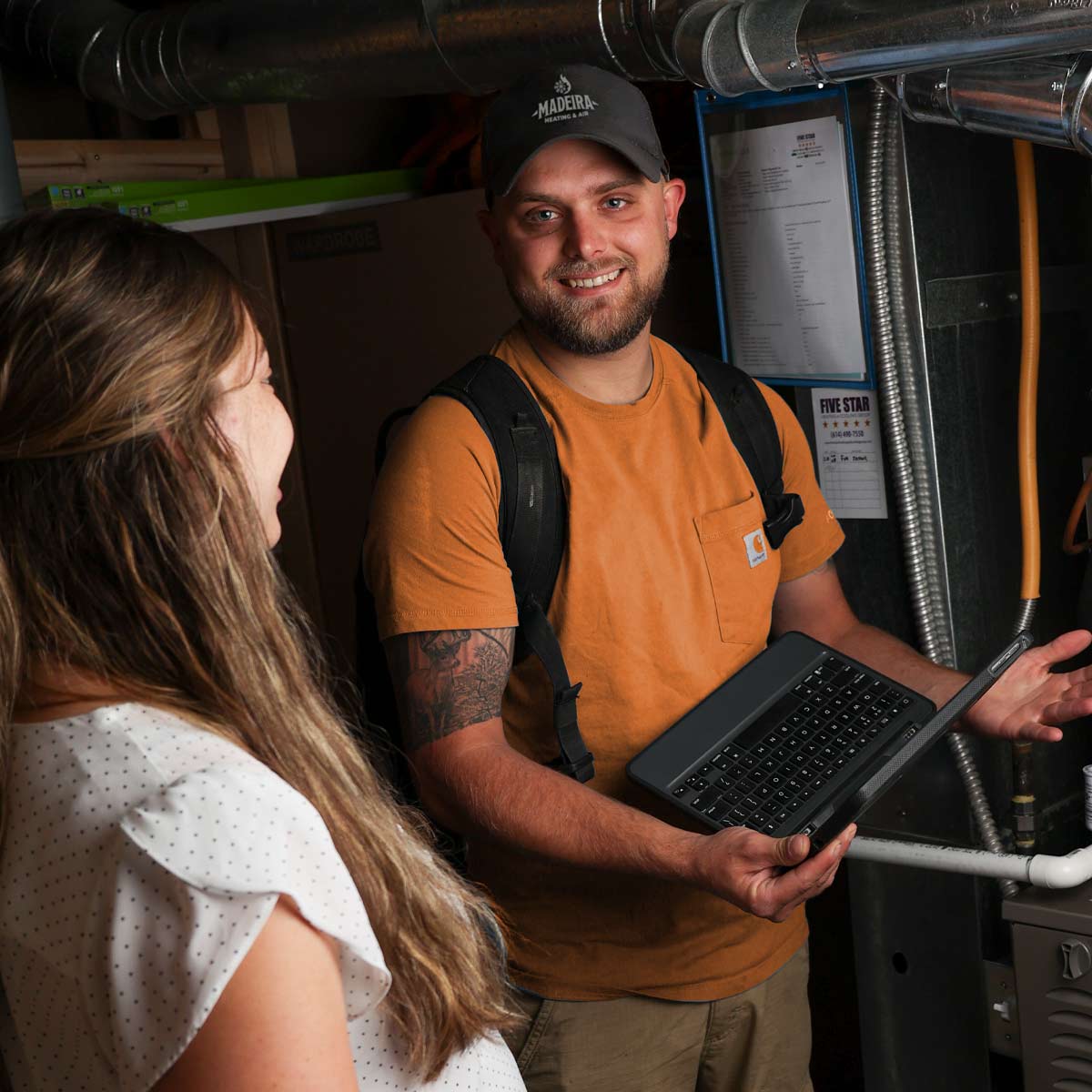 We Repair All Types of Heating & Cooling Systems
If it has something to do with Heating, Ventilation and Air Conditioning, your friends at Madeira Heating & Air can help.
As your local heating and cooling experts in the Greater Cincinnati Ohio area, our NATE-certified technicians at Madeira Heating & Air can service and repair all brands of equipment, all make, models, ages and styles.
We are an Authorized Amana Dealer. However, we repair, service and install all the name brands of equipment including American Standard, Goodman, Trane, Bryant, Carrier, Comfortmaker, LG, Lennox and more.
We service split systems, heat pumps, ductless systems, gas furnaces, oil furnaces, electric furnaces, single-stage systems, multi-stage systems, zoned systems and all types of heaters and home heating systems. If you're looking for the best local HVAC repair person in the Greater Madeira area, we encourage you to take the time to review our website, check our customer reviews and references and reach out to us with questions. We are here to help with all your home comfort needs! We are your one-stop-shop for anything related to HVAC.
4 Frequent HVAC Emergencies

Condensate Line Blockage
Did you know that around 90 percent of HVAC service calls we receive during the summertime are about air conditioning leaks? These leaks are usually small, or they start small at least. If an A/C leak isn't taken care of in a timely manner, nevertheless, it can end up causing major water damage. The most common cause of A/C leaks is a clogged condensate line. The condensate line is what removes the excess moisture by transporting it outside the home to a place where it can't damage the system or the home. If this vital line ends up clogged by rust, dirt, algae or debris (which it's known to do overtime), this excess water can't exit the system properly. This leads to leak problems, unwanted dampness and water damage. If it isn't taken care of properly, in fact, it can even lead to mold. Checking your pipes periodically ensures this line stays clear. 

Frozen Outdoor Unit In Winter
It's not out of the ordinary for there to be a little bit of frost on your outdoor unit when there are freezing winter conditions outside. Nevertheless, it is not normal for the whole outdoor unit to be covered with ice for a long period of time. Whether the ice is inside the unit in the casing or outside the unit, if ice is left for too long, it can end up causing severe damage to the machinery. Whenever there's ice build-up on the unit, it usually means the unit's defrost cycle isn't operating properly, if at all. 

Frozen Air Conditioner Coils
When an air conditioner is frozen, using it can cause serious damage to the system. Freezing usually happens when the refrigerant temperatures drop below freezing. This makes the air around the system condense and freeze. If you aren't careful, this can build up into larger blocks. There are a few reasons why the refrigerant temperature becomes too low. It happens when a homeowner runs their air conditioning system when it's below 60 degrees outside. Additionally, it can happen if you run the A/C temperature too low. We suggest never setting the temperature below 70 degrees on your air conditioner. If you've ruled these issues out, you might have an airflow problem or you might also be extremely low on A/C refrigerant. In any case, always make sure your intake filter is clean and doesn't need to be replaced. 

The Outdoor Unit Doesn't Turn On
If your outdoor unit isn't running, make sure your shut-off box switch is turned on and there aren't any blown fuses in your panel box. You can also check to see that your thermostat is set correctly. If there are no problems here, you might have faulty cables or burnt wires. There could also be a problem with a safety device. There are other common causes for the outdoor unit not turning on, which is makes it difficult to self-diagnose. If you are not sure of the cause, please call Madeira Heating & Air right away.
HVAC FINANCING
Buy Today, Pay Over Time with HVAC Financing
Your local heating, cooling and air care experts here at Madeira Heating & Air have longstanding relationships with a wide range of creditors, lenders and respected financial institutions that we partner with to help you through the process. Our job is to help you maintain optimal home comfort year-round and make manageable monthly payments to pay for your new HVAC equipment. We understand how sometimes home comfort can't wait here in Ohio.
In short, our furnace financing, heat pump financing and A/C finance options are second to none.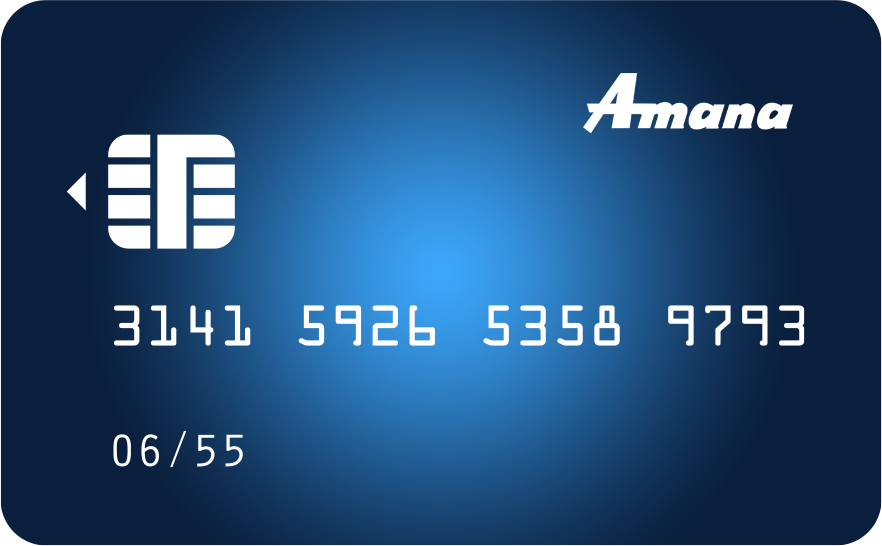 What Our Customers Are Saying

We had such a great experience! We inquired the this morning about someone coming out to look at our heater and we quickly got an appointment the same day. They were prompt and very professional.Overall, really grateful for the speedy and wonderful service and will definitely use Madeira Heating and Air in the future.
- Jessica M

Mark from Madeira HVAC deserves 5 stars!! This is a great company to call and my experience with Mark was everything you want from a diagnostic service call. Honest, professional, communicative, and took the necessary time and then some to ensure he gave me the most accurate info available. Will definitely be recommending them to friends and family. Would call them back in a heartbeat.
- Dan G

A very honest and professional company that did NOT try and sell me a new furnace like so many others have. They diagnosed the problem quickly and suggested a repair, other than replacement as the competetion did. I highly recommend calling them first!
- Kirk H