Air Conditioner and Cooling Systems in Madeira, OH
If so, you might need an AC repair in your Miami Valley Ohio area home. We encourage you to give us a call. You should never let an AC problem go unaddressed, or be allowed to progress into an expensive, sweaty, hot summer mess. If an AC problem arises in your Greater Cincinnati Ohio area home, keep in mind that cool relief is always a fast and easy phone call away when you choose Madeira Heating & Air. We are a local, family-owned HVAC company that cares about your home comfort, cool air and indoor air quality. As a family business, we take your air conditioning repair call seriously! We realize you and your family depend on your cool air during Ohio's hot and muggy months of summer. 
We're open and available around the clock, 365 days a year here in Madeira and surrounding areas in the Miami Valley region.




100% Satisfaction Guaranteed
Schedule a Diagnostic Service Call Today!
When a home cooling system goes on the fritz, a homeowner needs to find out exactly what's going wrong to have the problem fixed. It doesn't matter if it's underperforming or your A/C has broken down completely, you can always schedule a Diagnostic Service Call at price rates you won't find anywhere else.
During a diagnostic service call, the home cooling experts at Madeira Heating & Air visually inspect all the seals, controls, lines, wiring, belts and hoses on your air conditioning system in addition to inspecting other related equipment. We use the A/C latest technology to assess your AC compressor, fan motor, wiring, condenser, refrigerant levels and more to figure out exactly what the problem is so you can make the right decision moving forward, at the right price.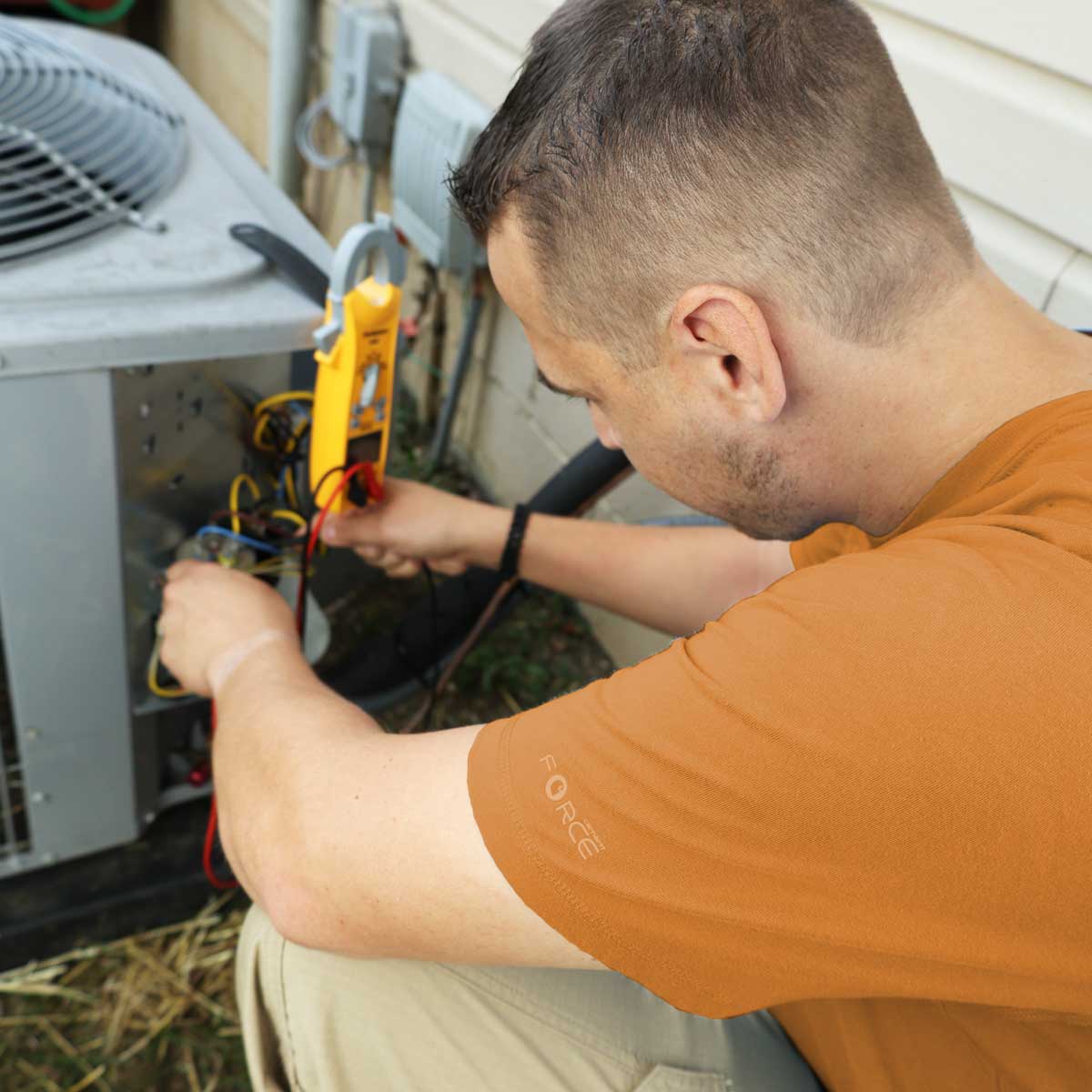 Emergency A/C Repair Services in Cincinnati, OH
If your A/C system breaks down and you start to sweat Ohio's muggy summer heat — call Madeira Heating & Air right away. We are your local, family-owned HVAC contractor that handles all your home comfort and air quality needs in one place. As a member of the Five Star Heating & Cooling Group Family, we are able to offer our customers more. In addition to a 100 percent customer satisfaction guarantee, we also offer Extended Hours of Customer Support every single day of the summer, and all year long for your heating equipment as well. You can call us anytime for any sort of HVAC need. There is always a live person answering our phones. If your A/C isn't working properly, we can run low-cost A/C diagnostics to pinpoint the precise problem. We fix all types of A/C systems and all models, checking and repairing everything from A/C coils and A/C condensers and compressors, to fan motors, refrigerant lines, drainage, sensors and electrical wiring and more. The average residential A/C can usually be broken down into four major parts: Evaporator coils, A/C compressors, condenser coils and expansion valves.
4 Signs You Need A/C Repair
Does it seem like your air conditioning system needs some professional repair work performed on it? Despite the fact that the system is still running, your A/C can often send you signs it's time to have an expert look at it. Below we list a few signs you should keep an eye out for.

Higher Home Cooling Costs
Whenever the cost to cool your home goes up, it should be a sign that something isn't working right. Because A/C units run on electricity, this means you should monitor your monthly electric bills. Electric bills should increase during the summer months when you finally start using your air conditioner. However, those costs should not be above the usual costs during the summer months.

The Unit Blows Warmer Air
If your air conditioner is blowing air out that isn't cool, it's a problem. For one, it might indicate you have a broken compressor. Additionally, it could be a potential leak in the refrigerant line. Both of these problems are things we can easily repair and the work might be less than you'd expect it to be. However, you will have to address the issue before you're able to use your system at full capacity.

Higher Levels of Humidity
One of the biggest things an air conditioner does in humid states like Ohio is that they pull humidity from the air in your home to provide that cool comfort you depend on. If you are noticing water pooling around your windows or you notice a sticky feeling to the air in your home, it's a good sign that your air conditioner isn't functioning properly.

There's Moisture Near the Equipment
If there's moisture or leaks around your A/C, you probably have a problem. Although it could be a minor problem like a block in the drain tube that drains condensation from the unit. This isn't an emergency. However, you will want to fix it to prevent mold growth. On the other hand, sometimes moisture build-up can indicate a refrigerant leak, which is something serious. In either case, homeowners should address moisture issues quickly to prevent further problems.
General Air Conditioner Questions & Answers
Why is my AC freezing up?
Most A/C freeze-ups are because of a lack of airflow to the evaporator coils, or a lack of refrigerant in the unit. If your A/C is freezing up, we suggest shutting the system down immediately to avoid causing damage to your expensive A/C compressor. Give us a call if you don't figure out what's causing the freeze-up.
When should I replace my home cooling system?
If your residential A/C unit is 10 years old or older than 10 years, you should at least start to plan for AC replacement in the near future. Usually, AC units don't last longer than 15 to 20 years of usage in best-case scenarios. They most certainly don't last as long as the typical furnace. Signs an A/C unit is outdated or needs to be replaced soon include increases in home cooling costs, frequent repair calls and inadequate performance.
What do I do if my A/C isn't working?
If your home cooling system isn't operating, the first thing you should look at is the unit's power source. After checking that, check the thermostat and the system controls. If all this is in working order and it's not the source of the problem, make sure you don't have a clogged air filter. If checking these areas does not resolve the problem and your air conditioner still isn't working like it needs to, give us a call so we can discuss options to resolve the issue.