Furnace Installation & Replacement Experts in Madeira, OH
Replacing your home heating system is a big job. But this doesn't mean it needs to be an expensive headache that leaves you without heat. Your local furnace installation experts here at Madeira Heating & Air specialize in selling and installing high-quality furnaces (the best home heating systems in your area) at competitive prices that we guarantee our competition cannot beat. We believe homeowners in Southwest Ohio deserve the best residential furnace systems and top-notch installation services money can buy at a fair price. When you have Madeira Heating & Air replace your residential furnace system, you're trusting a team that's been in the HVAC industry for decades, a local team with long-standing relationships to industry leaders and innovators.




100% Satisfaction Guaranteed
Get a Free HVAC Quote Today!
We make the furnace installation process simple and send the best home heating and cooling experts near you to your home with the best equipment the HVAC industry has to offer!
If you're in the market for a new furnace or looking for an estimate on Heating, Ventilation and Air Conditioning equipment, whether you need to replace your furnace, repair it, or have your system serviced, you can get an Instant Online Estimate today from Madeira Heating & Air by filling out the form to the left and submitting it! After you submit that information, we will contact you right away after we receive your message and information. Nevertheless, you can always get immediate support by calling us! Give us a call at (614) 655-5125.
Knowing When to Replace Your Home Heating System
Knowing when to replace your home heating system is half the battle. The other half is calling Madeira Heating & Air so we can take it from there and you can save … relax … and enjoy.

The Age of Your System
Begin making this decision by considering the age of your furnace. If you are like a lot of people, it's likely your home heating system was already in place when you purchased your home and moved in. This means it could be nearing the end of its lifespan. It's important to look at the age. If you have the owner's manual, check it out. If not, look up the furnace's model number online. The model number should be located on the furnace itself. The average lifespan of a furnace ranges from 15-20 years give or take. This number depends on factors like maintenance and usage.

Frequent Furnace Repairs
Ask yourself how many times you've needed to call on an HVAC repair person to come repair your furnace during the last couple years. If you see your repairman more than your friends, it's time to call for a free estimate. We offer free estimates online. All joking aside, nevertheless, if you are making more repairs the chances are they are becoming more frequent and you're essentially throwing money into an older system that's going to need to be replaced sooner or later.

Rising Energy Bills
An increase in your home heating bills can mean that your system is running less efficiently. To rule out other possibilities, you should check for air leaks and air drafts that could be letting heat out and cold air in. You should also consider you insulation levels. If these areas are find, it means it's the furnace's efficiency that's causing the increase and it's time to think about saving money in the long term by replacing the heating unit.

Safety Considerations
Safety should always come first. With this in mind, if you experience any of the above signs from your furnace, it's time to speak with an HVAC company and consider furnace replacement options. Not only is it important to have a reliable source of heat for the entire home through the winter, but it's important to keep your family safe while doing so. Issues with a home heating system can cause health issues from carbon monoxide, dust and dander, and other things that are bad to inhale and overall aren't worth the risk. Playing it safe can actually save you money in the big picture. Call Madeira Heating & Air today!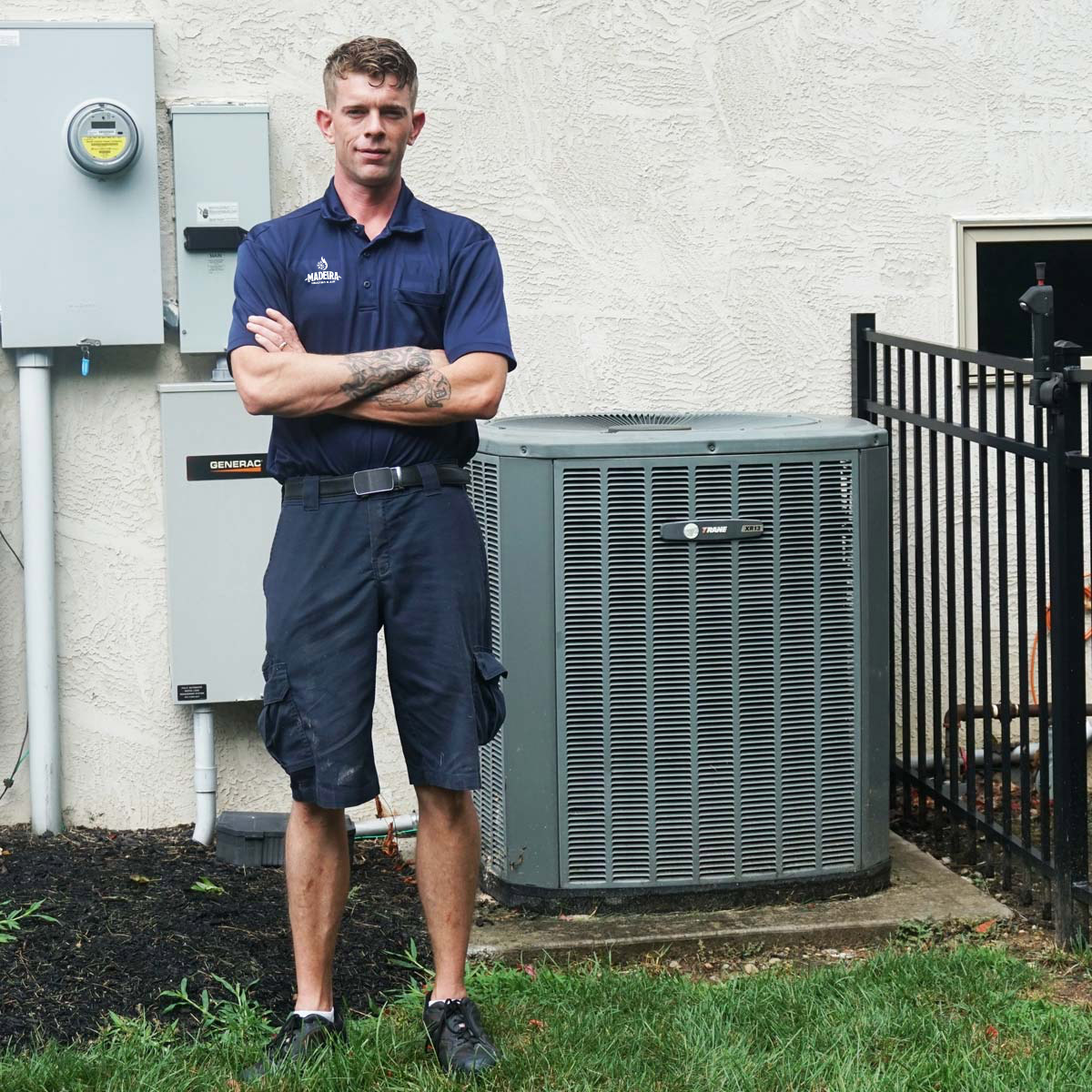 What is a Heat Pump?
For homeowners to minimize their impact on the environment while curbing home cooling and heating costs, investing in heat pumps is a great way to do so. Homeowners use their HVAC systems year-round to stay cool during the hot, humid summers and stay comfortable and warm during the brutal winter months. Heat pumps appear like most central A/C units on the outside of homes. However, they are not a home cooling system alone. These pieces of equipment also provide a certain degree of warmth for houses. Heat pumps are designed to transfer heat with the use of refrigerants. A reversing valve allows homeowners to switch back and forth between cooling and heating depending on the season and their preferences. These pieces of equipment can help owners who are concerned about reducing their carbon footprint because heat pumps burn fossil fuels to generate heat instead of using refrigerants and electricity. If you're in the market for a residential heat pump and would like a free estimate on your Heat Pump Installation services today!
Furnace Installation & Replacement
What type of furnace should I buy?
This is the most important question a homeowner should ask when replacing their furnace. You need to know which type of system you are going to have installed. The two main types of systems used for most homes for heat are packaged heating systems and split systems. A split system has a furnace coil and a condensing unit. A packaged system, on the other hand, has both the heating and air conditioning components.
What's the best type of fuel source for a furnace?
Once you decide on your furnace type, you need to consider the fuel source. There are 3 different fuel sources you can use to heat your home. These three main types include gas, electric and oil. To figure out which is the best option, a homeowner needs to check the prices of suppliers for each type of fuel and figure out which is available and most economical to run.
Furnaces also vary in size. For example, a propane or oil furnace needs more room than other fuel source furnaces. At the same time, natural gas furnaces offer far cleaner energy and are good for homes in general that are not connected to gas supplies.
What is a furnace safety rating?
If you have family in your home, you want your heating solutions to be as safe and effective as possible. According to the Air-Conditioning, Heating, & Refrigeration Institute (also known as AHRI), gas furnace safety depends on expert installation that's along with the safe disposal of CO gas. Otherwise, if the vent of your gas furnace isn't installed properly, or if it becomes obstructed, you can get carbon monoxide poisoning.

Emergency Home Heating Repair Services in Madeira, OH
Heating system emergencies are urgent matters during the winter months, especially when you live in Southwest Ohio. If your furnace or heating system fails you when you need it most, Madeira Heating & Air has your back. You won't have to lose a single night's rest. Emergency furnace repairs are our specialty. When you call us with a heater problem, our HVAC emergency repair crews are dispatched right away. Without it costing you an arm and a leg, they show up fast and fix your furnace on the spot, usually during the first visit. Madeira Heating & Air understands how a malfunctioning furnace can be a hassle, and even a safety hazard, during the winter months here in Hamilton County, we work quickly to restore the heat in your home. Whether you merely require specialized HVAC repairs or you need your whole home heating system to be replaced, there is nothing our team of home heating heroes can't handle with ease. We offer extended customer service hours and guarantee your satisfaction across the board.
What Are the Most Common Furnace Problems?
Lack of maintenance.

Dirty filters.

Wear and tear.

Electric Ignition or pilot control problems.

Malfunctioning thermostat.

The furnace doesn't heat at all.

The furnace doesn't heat enough.

Frequent cycling.
HVAC FINANCING
Buy Today, Pay Over Time with HVAC Financing
Your local heating, cooling and air care experts here at Madeira Heating & Air have longstanding relationships with a wide range of creditors, lenders and respected financial institutions that we partner with to help you through the process. Our job is to help you maintain optimal home comfort year-round and make manageable monthly payments to pay for your new HVAC equipment. We understand how sometimes home comfort can't wait here in Ohio.
In short, our furnace financing, heat pump financing and A/C finance options are second to none.