Residential Heating, Cooling & Indoor Air Quality Services in Amberley Village, OH
If you're searching for higher-quality, year-round heating, cooling, and ventilation experts, the professionals at Madeira Heating & Cooling are the ones to trust with your HVAC equipment. Heating, cooling, and air care is our vocation as a family-operated company serving homeowners in Amberley Village, OH. Our goal is to provide homeowners with the top-ranking home comfort products in the HVAC industry at the most incomparable rates in the market.
Our extensive inventory of HVAC equipment includes everything from home comfort systems to air care add-on products. In addition, during the extreme hot and cold weather here in the Amberley Village neighborhood, we provide a helping hand to any heating, cooling, and ventilation services for residents in Amberley Village, OH. 
Why We Love Being the HVAC Experts in Amberley Village, Ohio
Amberley is a small, quiet village located in Hamilton County, Ohio. The town's status as one of the "Tree Cities" in the United States has resulted from the magnificent scenery offered by its numerous luscious trees.
French Park is a public park at the top of a steep incline. It has a trail that allows you to hike or run, and there are plenty of places along the stream where the water pools up and you can play in. Another advantage of the French Park is that it has plenty of open fields perfect for picnicking.
While at the French Park, you will love walking through the woods along the creeks of the Park. Amberley is also home to the first pickleball club in the tri-county area, played at French Park Recreation Center and Greenview Park.
Also, check out Glenwood Gardens, a great place for people to get outside and enjoy themselves, with lots of trails and paths to explore.
Amberley Village has city-like amenities and centers that provide the best of both worlds: a rural feel with easy access to downtown. Its central location, diverse population, and proximity to shops and restaurants make it ideal for someone to live and work.
Home heating problems, repairs, and installations in the Amberley area have a new go-to provider: Madeira Heating & Air. We can repair and maintain home furnaces, air conditioning units, air purifiers, and all types of heating issues in the area. We provide the Greater Cincinnati area with the latest residential cooling and heating technology.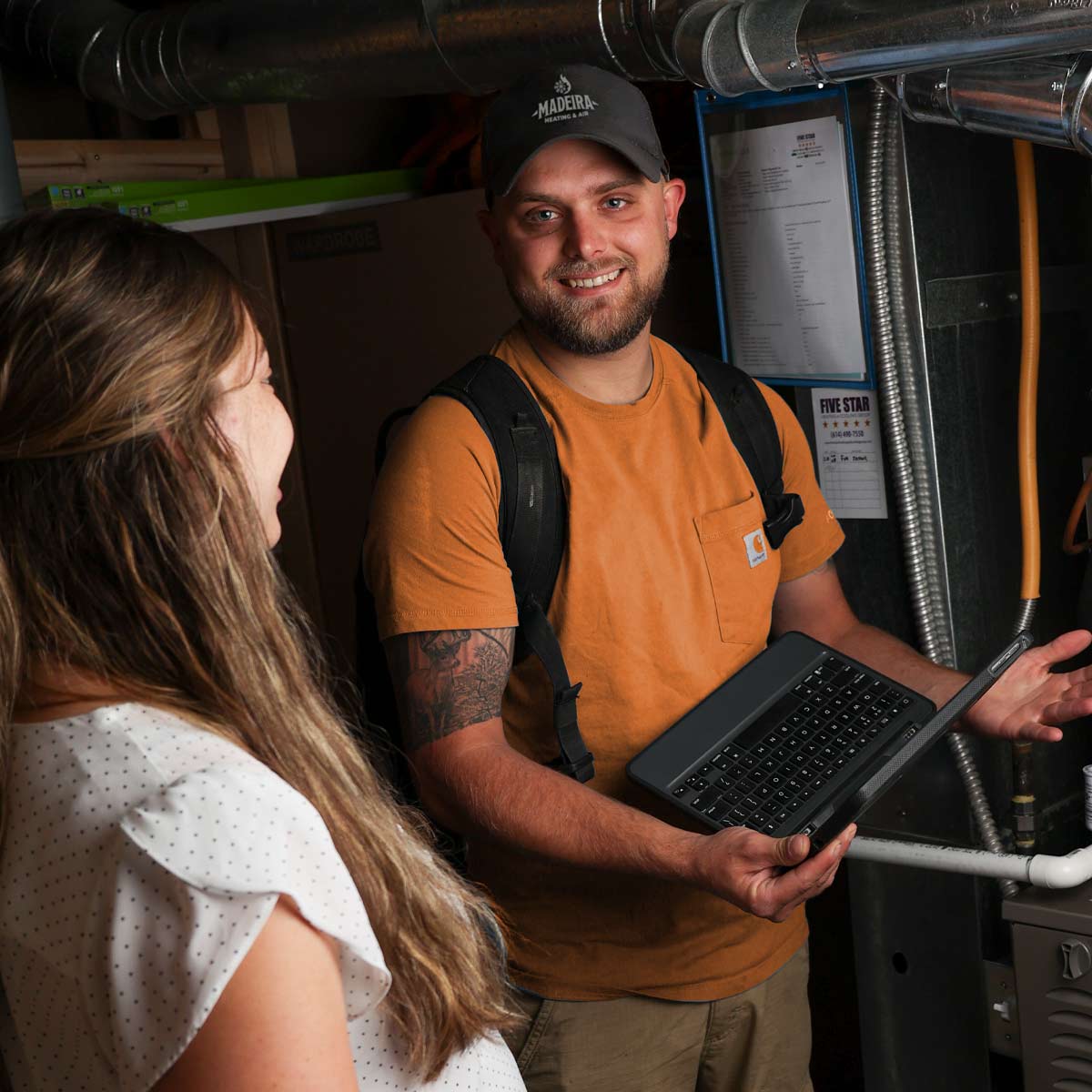 All Your Home Comfort Needs In One Place
Your local furnace and air conditioning experts here at Madeira Heating & Air care about our customers' comfort as well as our community. We are excited to serve the wonderful residents of Amberley Village, OH, with the most superior heating, cooling and air quality products and services available in the market at the most competitive price rates possible. We are a preferred local HVAC company of choice in Central and Southwest Ohio when it comes to affordable heating, cooling and Indoor Air Quality solutions.
If you are facing a furnace breakdown in the dead cold of winter, we offer the same day 24-hour emergency furnace repair 365 days a year, as well as other types of heating system repairs and heating and air system installation with fast and easy financing.
If the opposite is true and your home cooling system has gone down during the summer, we offer same-day emergency air conditioning repair services around the clock, available 24 hours a day, 7 days a week, all week long including holidays. If your system is needing to be replaced, we offer professional air conditioner installation for those needing a new air conditioning system, or AC unit, with the same finance options.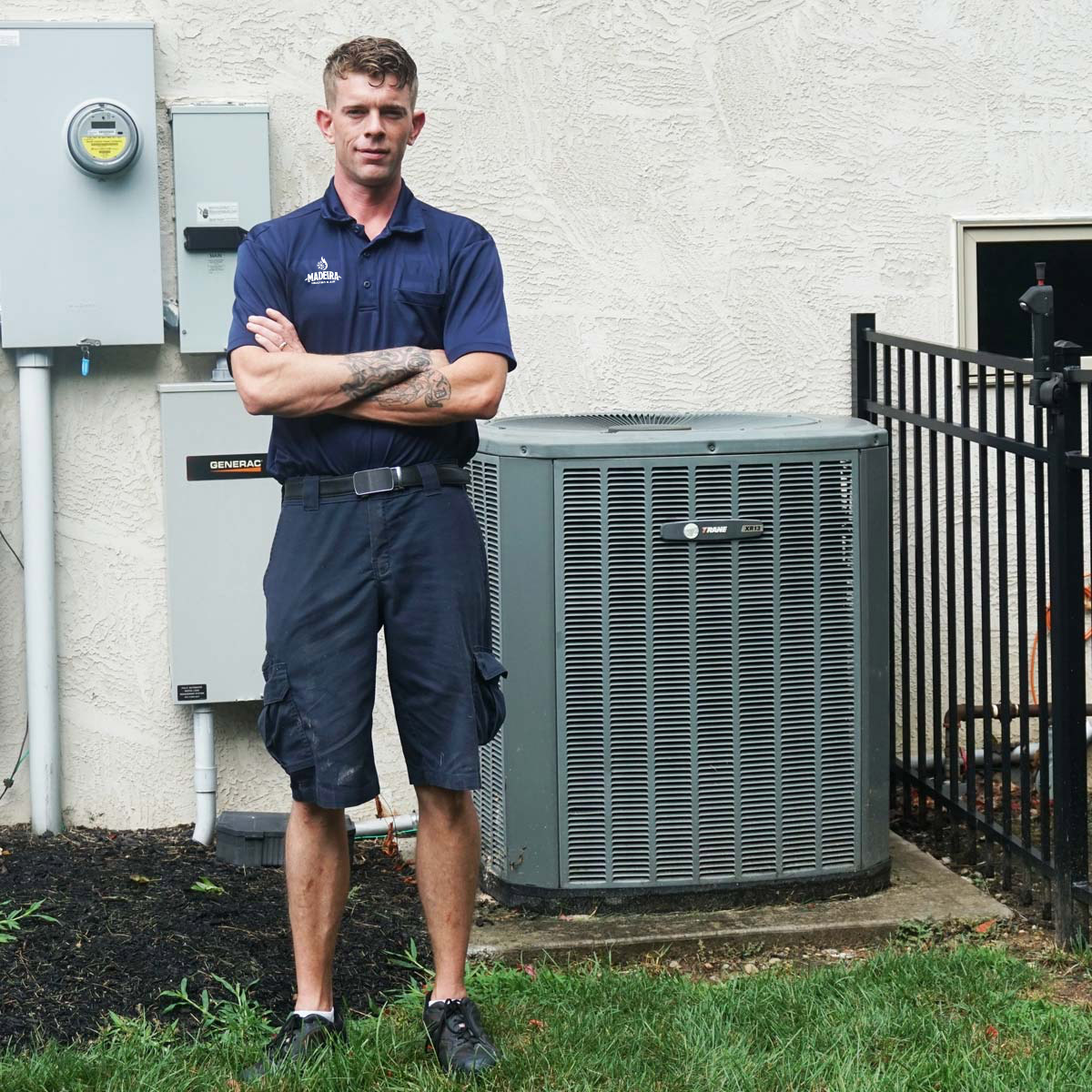 Why Choose Us?
In all of the work we do in Amberley Village, OH, our HVAC service vans and trucks arrive on time, as scheduled, calling ahead 30 minutes to let you know we are en route; these vehicles are always fully stocked and outfitted with all the latest HVAC tools and equipment using the latest technology. 
Among our home cooling solution selections, we replace and repair A/C fans and A/C compressors, AC condensers, AC wiring and we recharge cooling refrigerant levels and repair refrigerant lines, all of which should only be done by certified AC technicians. 
We work on gas stoves, gas furnaces, electric furnaces, heaters, heat pumps and all other types of heating system components and air handlers and ventilation systems. We fix and install Indoor Air Quality products like UV Lamps, smart thermostats, air purifiers, dehumidifiers, humidifiers, or any other air quality device working in conjunction with an HVAC system. In the wake of COVID-19, our iWave-R has become a popular and sought-after air purifier that uses ion technology to kill or remove viruses and bacteria from the household air.
Madeira Heating & Air Customer Reviews