Heat Pump Installation & Replacement in Madeira, OH
As your top-rated experts for HVAC installation in Southwest Ohio, you're always in good hands when you choose Madeira Heating & Air. Heat pumps are great home comfort systems because they provide crisp cool air conditioning during the summer and warm air during the wintertime. With an air handler or secondary source of heat, a heat pump is all you'll need and Mother Nature will thank you for it. In any case, how well your heat pump performs and how long it's useful for home heating and cooling depends on how well it is installed. One of the biggest advantages of having a heat pump, in addition to them being environmentally friendly, is the reduction in home heating and cooling costs. If a handyman or novice installer doesn't do the initial installation precisely, you won't see the energy savings you were expecting. For precise, expert heat pump installation and HVAC replacement services in the Greater Cincinnati Ohio area, hiring the right HVAC company near you is an extremely important decision.




100% Satisfaction Guaranteed
Get a Free Quote on a New Heat Pump Installation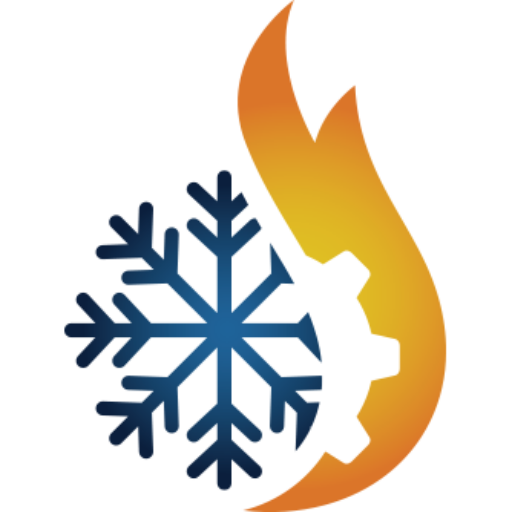 $0 Instant Online Estimate
Get a free quote!
Madeira Heating & Air is committed to serving residents throughout Southwest Ohio with the highest level of quality with a personal touch and prices you won't find anywhere else. As a member of the Five Star Family, Madeira Heating & Air guarantees customer satisfaction 100% on every job we do. Additionally, we offer the Best Prices Guaranteed on all the heating and cooling industry's leading heat pumps and home comfort equipment. As an Authorized Amana Dealer, we sell the finest heat pumps available on the market backed by warranty coverage that you also won't find anywhere else.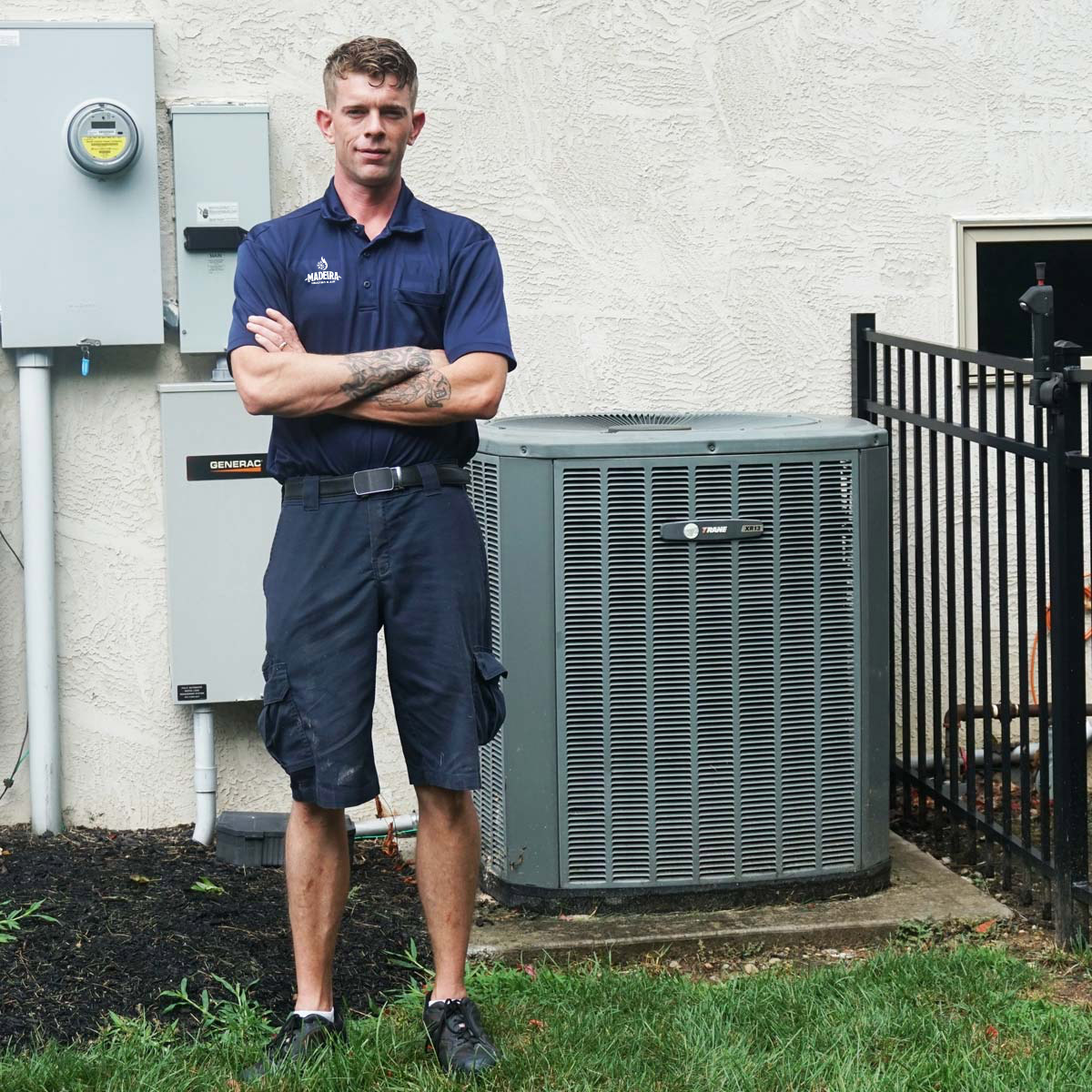 What is a Heat Pump?
Madeira Heating & Air welcomes homeowners to improve their home comfort year-round while reducing heating and cooling bills with the use of a single HVAC unit that's better for the environment.
Heat pumps are heating and cooling units that require little maintenance, are light on energy consumption, quiet, and environmentally friendly.
During the summer months when things get hot and humid here in Southwest Ohio, heat pumps run very much like a centralized air conditioner. They even look like a central A/C. However, heat pumps boost dehumidification and efficiency to provide superior comfort, no carbon emissions, and cost savings. During the winter, a heat pump can also help with heating by providing a source of heat by working with an air handler.
Is it Time to Replace Your Heat Pump?
When heat pumps have been in use for many years, it's not uncommon for problems to arise. This includes things like strange odors and unusual noises. If your heat pump is blowing out cool or cold air during the winter when it's supposed to be warm, it's one sign of a problem. If it's blowing hot air or warm air during the summer, when it's supposed to be cool, this is another sign. To determine whether it's time to replace your heat pump without all the guesswork, we suggest looking at the four biggest factors a homeowner should consider when deciding whether to replace a heat pump. Those options include Seasonal Energy Efficiency Ratings, repair costs, average lifespans, and the estimated cost to replace the heat pump.

Heat Pump Energy Consumption
Unlike other HVAC units, heat pumps provide warm and cool air. Because they're used in the winter and summer, they don't normally last for 30 years. Furnaces that end up lasting that long are only working one season of the year. Because of this, right around that 12-year mark, a heat pump's efficiency begins to decline the longer it's being used. At this point, while it might be possible to repair an older heat pump, you have to keep in mind that it will only continue consuming more energy to stay effective and this causes heating and cooling costs to increase in your electric bills.

Life Cycles of a Heat Pump
The average heat pump is designed to have a lifespan of 10 to 12 years, depending on the frequency of seasonal maintenance. We advise homeowners against making repairs to a heat pump that's older than 12 years old. Although it might be possible to temporarily restore the operation of the unit, it's only a matter of time until something else needs to be repaired and it's only going to get worse. If you have a heat pump that's 15 years old, your unit is definitely outdated. We recommend purchasing a new heat pump at this point.

SEER Ratings
SEER is short for Seasonal Energy Efficiency Ratings. This rating guages the efficiency of your heat pump during the wintertime as well as the summertime. To calculate your heat pump's SEER rating, you have to look at the production of cool air during the summer and compare it to the total amount of electricity it consumes in Watt-Hours. The average SEER rating of a new heat pump varies from 13 to 25. Typically, your heat pump's SEER ratings is usually located on the side of the unit.

Cost to Replace a Heat Pump
The overall cost for replacing a heat pump varies from $5,000 to $7,000 depending on the brand, model and who installs it. Typically, investing in a new energy-efficient heat pump will help lower monthly utility bills. Additionally, the latest systems for sale on the market are designed to provide superior airflow in the winter and summer.
Heat Pump Installation & Replacement Questions & Answers
Is it normal for frost to form on a heat pump?
When heat pumps generate heat during the winter, they used refrigerant that turns into gas. This gas condenses when it reaches the heat pump's coils. In turn, the condensation creates frost on the coils. Minor frosting is totally normal. In fact, it's so normal heat pumps have built-in defrost cycles that activate to take care of this frost. During this defrost cycle the auxiliary heat strips are automatically activated to warm, if you have a heavy coating of ice, however, or the defrost cycle isn't kicking on, you need to call Madeira Heating & Air right away. Heavy ice accumulation on your home's outdoor unit can indicate a serious problem that requires a professional heat pump expert near you. 
What is the difference between SEER and HSPF on a heat pump?
These two terms, SEER and HSPF, are both efficiency ratings HVAC professionals use for heat pumps.  The SEER (Seasonal Energy Efficiency Ratio) tells the efficiency of a heat pump in cooling mode.  HSPF (Heating Season Performance Factor) tells the efficiency of a heat pump while it's in heating mode. The higher the SEER and HSPF numbers, the better and more efficient the unit is designed to be in heating and cooling mode.  
Why are certain rooms warmer or colder than others in my home?
If your heat pump isn't sized correctly or the initial heat pump installation isn't performed precisely by an expert, the unit might not be sufficient for your size of home or it might shut off before the entire home reaches the desired temperature level. If the heat pump is sized properly, the home itself could have an air vent or air duct issue. An air duct system that was poorly installed or poorly designed can cause airflow problems. These airflow problems can make certain areas of the home colder or warmer than others. If your ducts aren't sealed properly, or an air leak goes undetected, the airflow might pass through your system unevenly. To properly determine the specific cause, give Madeira Heating & Air a call.

HVAC FINANCING
Buy Today, Pay Over Time with HVAC Financing
Your local heating, cooling and air care experts here at Madeira Heating & Air have longstanding relationships with a wide range of creditors, lenders and respected financial institutions that we partner with to help you through the process. Our job is to help you maintain optimal home comfort year-round and make manageable monthly payments to pay for your new HVAC equipment. We understand how sometimes home comfort can't wait here in Ohio.
In short, our furnace financing, heat pump financing and A/C finance options are second to none.