Heat Pump Repair, Maintenance & Installation in Madeira, Ohio
During the summertime, heat pumps run very much like centralized air conditioners. They help with energy-efficient dehumidification. Heat pumps provide superior comfort, with no carbon emissions, and optimal cost savings. During the wintertime, also offer heating and often work with an air handler.
Whether your home is currently equipped with a heat pump and you're looking for a heat pump repair technician that's fast and affordable, or you're thinking of installing a brand new heat pump, Madeira Heating & Air is the company to call! We are family-owned and operated and we have a team of friendly, NATE-certified heat pump technicians available 365 days a year.




100% Satisfaction Guaranteed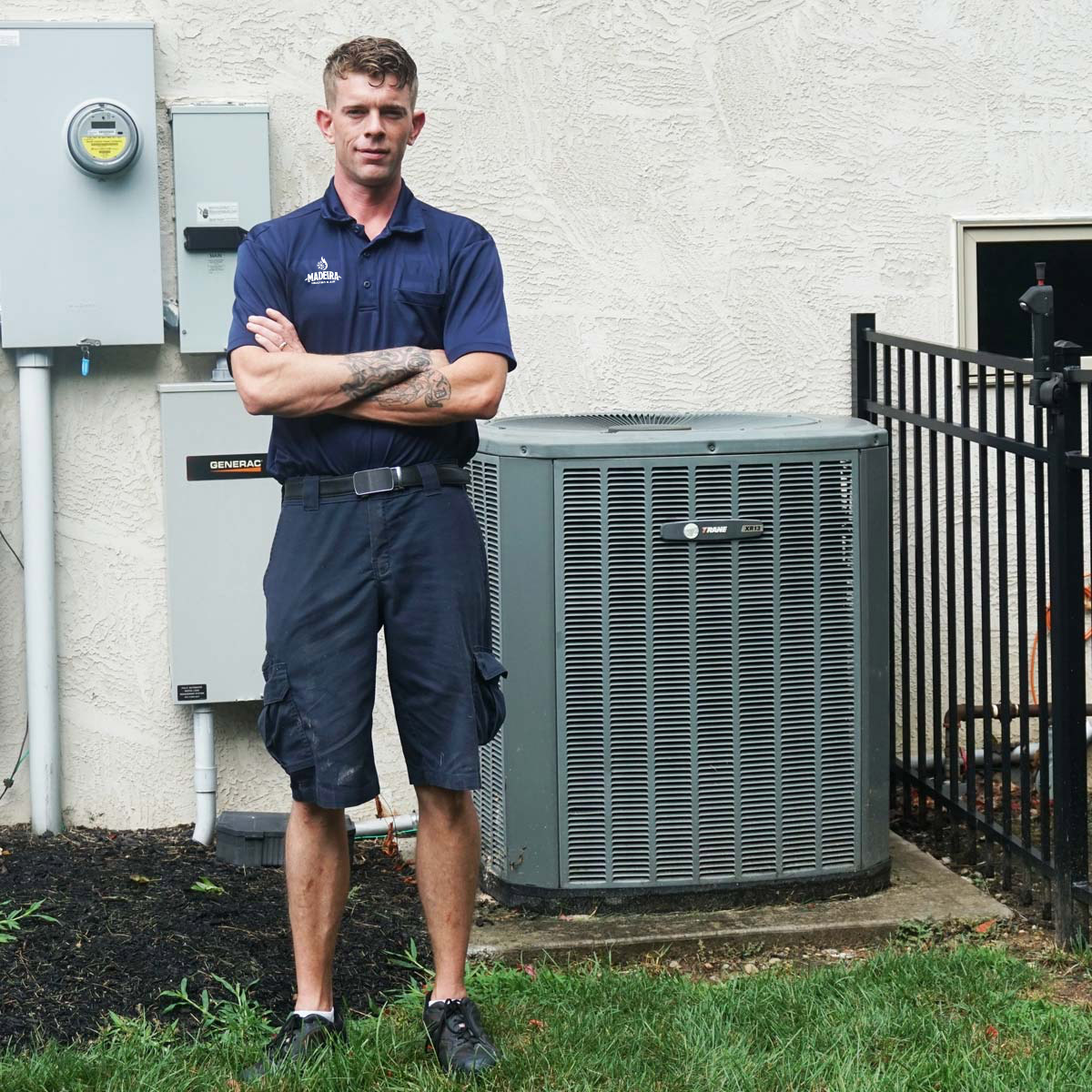 What is a Heat Pump?
For homeowners to minimize their impact on the environment while curbing home cooling and heating costs, investing in heat pumps is a great way to do so. Homeowners use their HVAC systems year-round to stay cool during the hot, humid summers and stay comfortable and warm during the brutal winter months. Heat pumps appear like most central A/C units on the outside of homes. However, they are not a home cooling system alone. These pieces of equipment also provide a certain degree of warmth for houses. Heat pumps are designed to transfer heat with the use of refrigerants. A reversing valve allows homeowners to switch back and forth between cooling and heating depending on the season and their preferences. These pieces of equipment can help owners who are concerned about reducing their carbon footprint because heat pumps burn fossil fuels to generate heat instead of using refrigerants and electricity. If you're in the market for a residential heat pump and would like a free estimate on your Heat Pump Installation services today!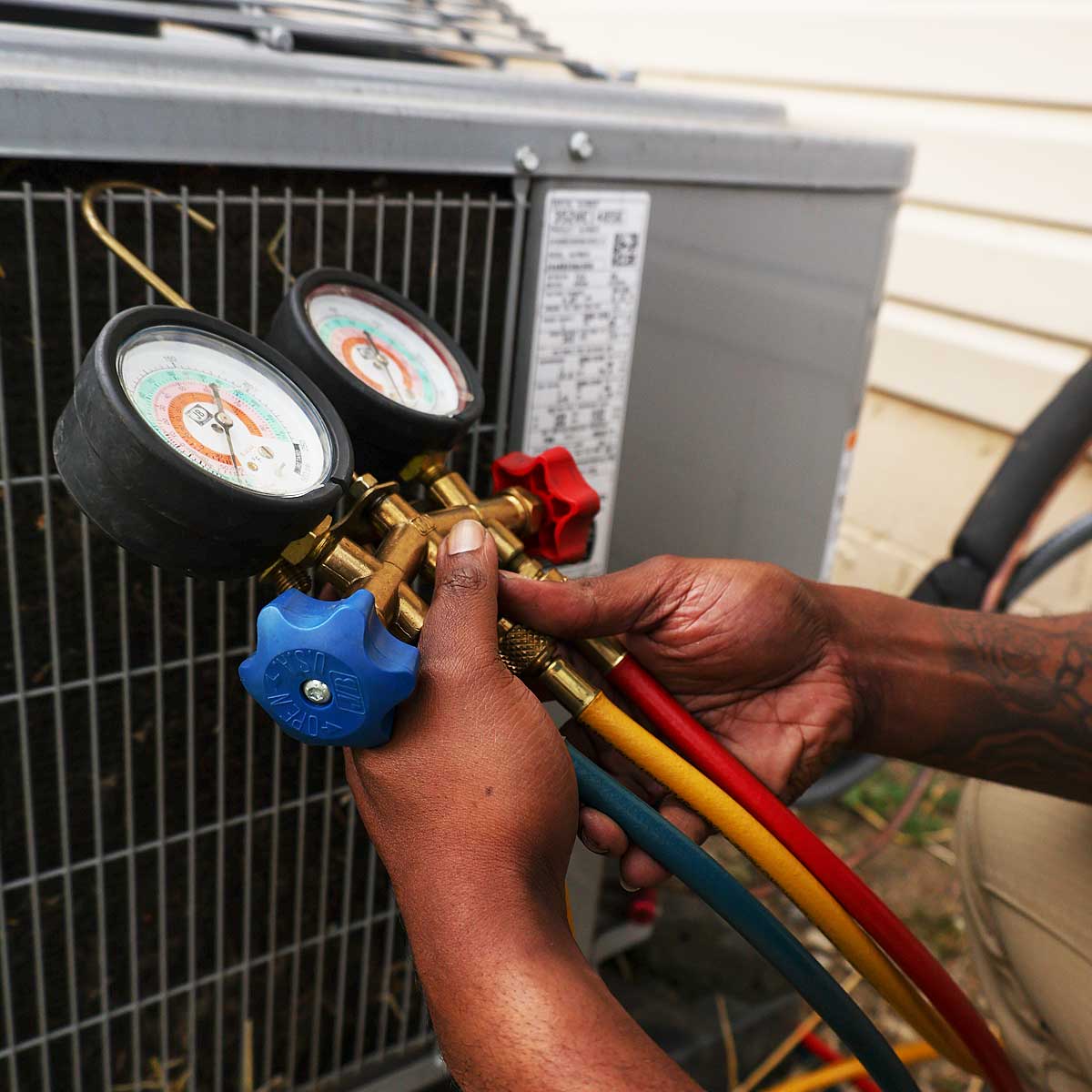 Heat Pump Repair Services Throughout Greater Cincinnati
At Madeira Heating & Air, our heat pump repair experts can come over to your home and perform professional heat pump diagnostics to give you a detailed understanding of exactly what is wrong with the system. From there, depending on how you decide to move forward, we can repair your heat pump the same day, and in a way that will deliver long-term results at the lowest possible cost.
We at Madeira Heating & Air truly care about your home's comfort levels and indoor air quality. If you're having a problem with a residential heat pump, don't delay giving us a call right away before the problem becomes worse or the weather becomes uncomfortable. We work on all types of heat pumps, all makes and models.
Heat Pump Maintenance Experts in Madeira, OH
Because they're used in both summertime and wintertime, heat pumps need professional attention regularly so that they don't deteriorate over time and decline in efficiency.
We at Madeira Heating & Air encourage homeowners with heat pumps to have preventative maintenance performed regularly to minimize wear and tear on the equipment and lengthen the unit's lifespan. Heat pump experts agree this should be done at least one time per year. Without regular seasonal maintenance, heat pumps consume up to 25 percent more energy. Our NATE-certified technicians at Madeira Heating & Air inspect, clean and give your heat pump the care it needs to make it last as long as possible.
Make sure you call the pros that care at Madeira Heating & Air to service your heat pump this season!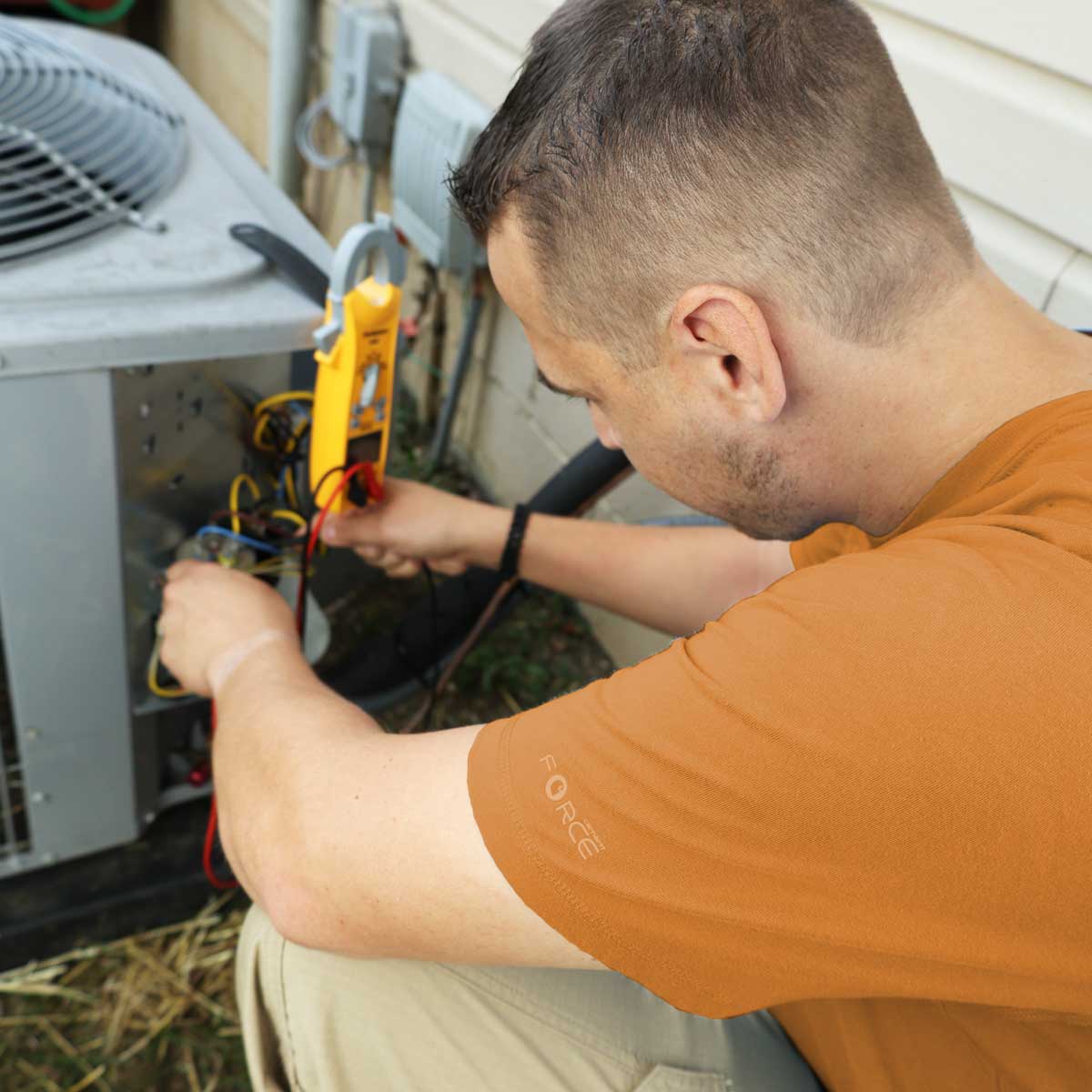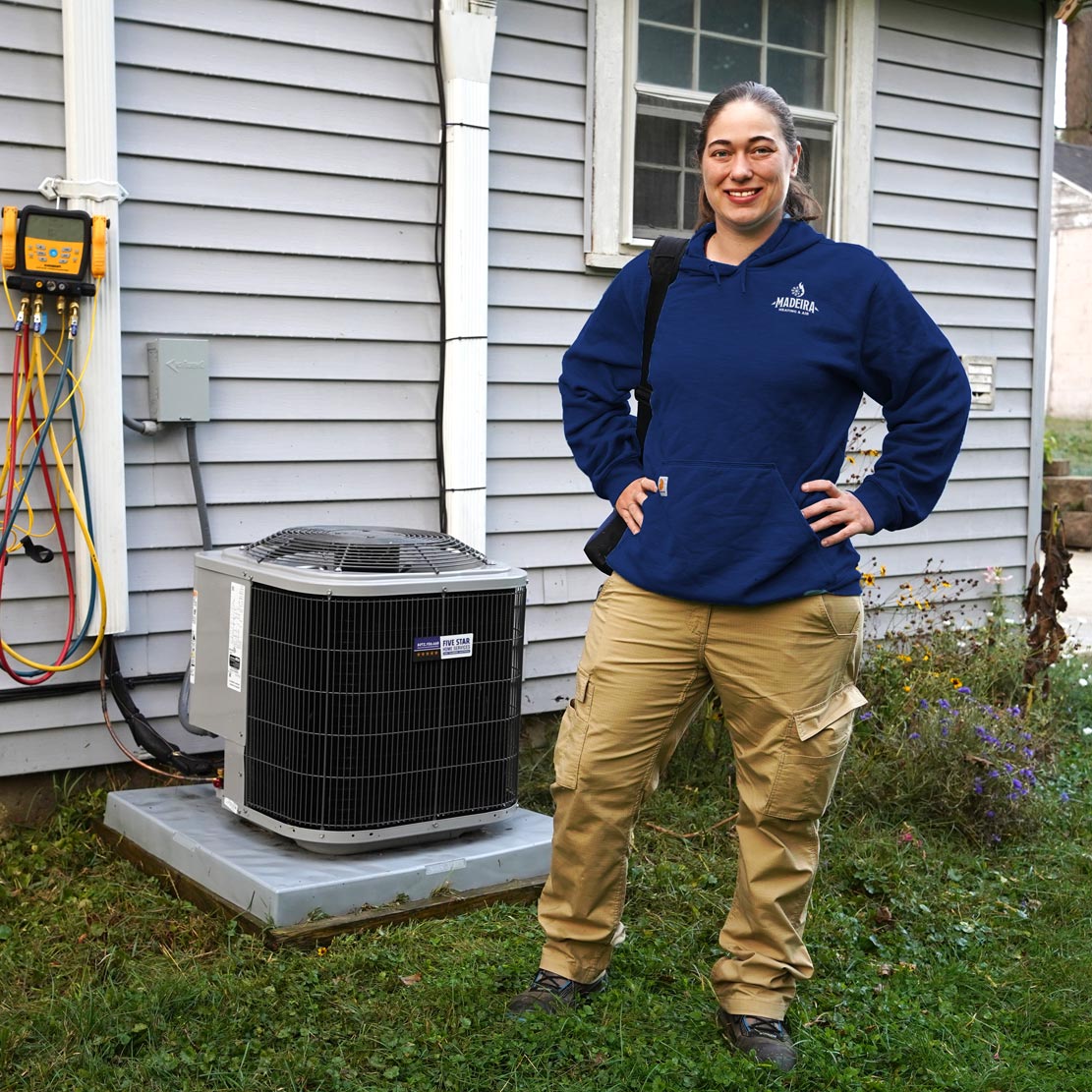 Heat Pump Installation & Replacement Experts in Madeira, OH
Choosing the right HVAC contractor to install a new heat pump is a wise decision that pays off every time. We at Madeira Heating & Air are excited to offer our heat pump replacement and heat pump installation services to residents throughout the Greater Cincinnati area.
If you're in the market for a heat pump for your home in the Greater Cincinnati Ohio area, we encourage you to pick up that phone. Let's see what it'll take to get a new heat pump into your home today!
When you choose Madeira Heating & Air for your heat pump installation, you can choose from a comprehensive selection of the HVAC industry's leading products — high-quality heating and cooling equipment at prices you won't find anywhere else.
Emergency Heat Pump Repair Experts in Madeira, OH
Madeira Heating & Air offers 24/7 Emergency Heat Pump Repair year-round, 365 days a year, including weekends and holidays. When you call us for help with any sort of problem with a heat pump, our friendly NATE-certified heating and cooling technicians are dispatched right away to fix your problem in a fast and affordable manner. Using the latest tools and technology available in the HVAC industry, our local heat pump experts are usually able to fix your problems on the spot during the first visit. Regardless of the size and scope of the job, we can help. 
If your heat pump giving you problems when you are depending on it for comfort, Madeira Heating & Air is the company to call. We handle work on all types of heat pumps, all makes and models, with same-day scheduling on emergency heat pump repair services in the Miami Valley Ohio area and throughout Southwest Ohio.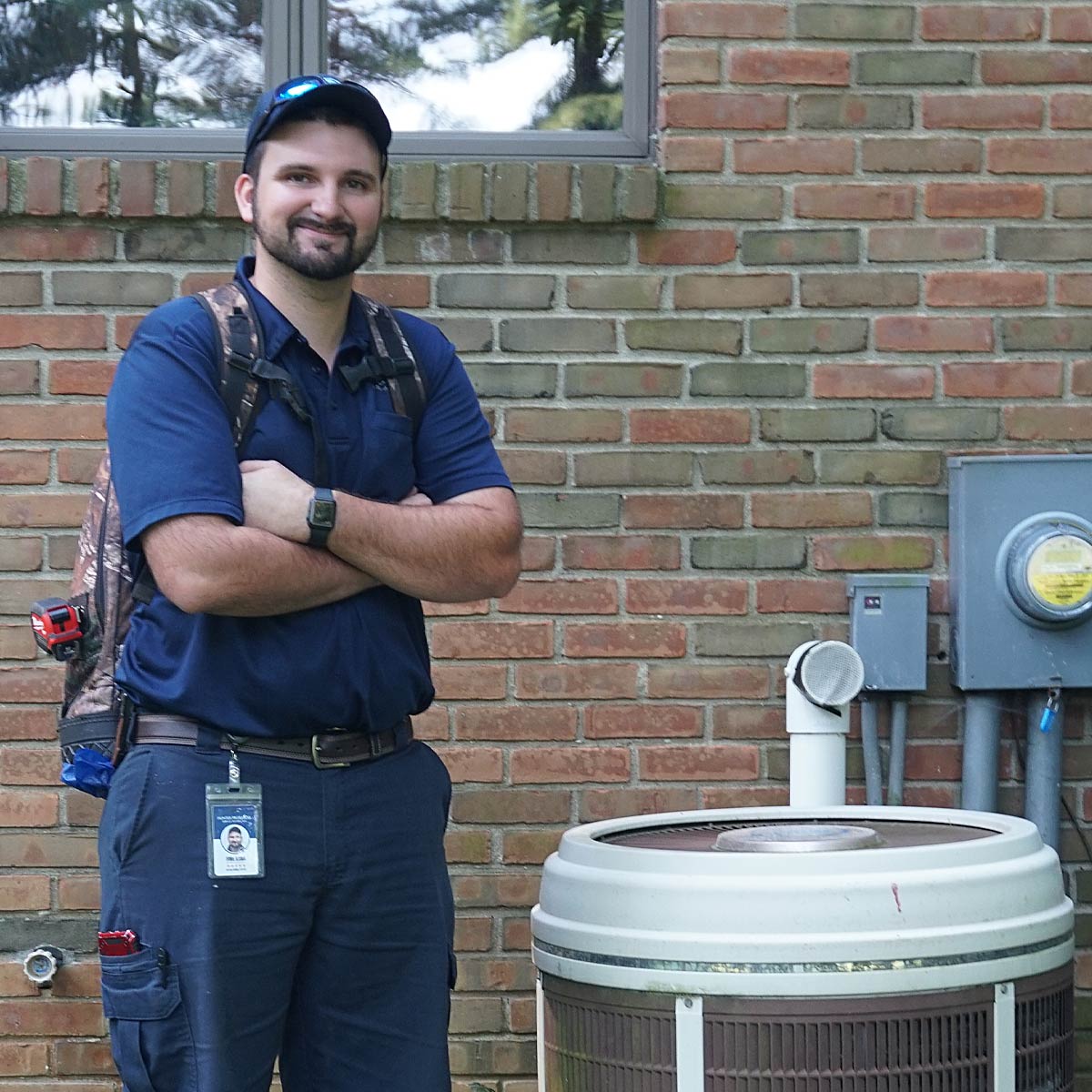 General Heat Pump Questions & Answers
Is a heat pump as good as an air conditioner?
Heat pumps, like air conditioners, use refrigerants to cool the air. To determine if a heat pump performs better than an A/C, you have to look at the size, features, and efficiency ratings of each and compare them. One of the perks of owning a heat pump is they help with heating in addition to air conditioning. If your residence needs an added heat source, a heat pump can provide that to an extent. Because heat pumps can heat your home in addition to cooling it, it becomes useful year-round.  Air conditioners, on the other hand, are made only used in the summertime to keep your house cool and remove humidity.
When do heat pumps need maintenance?
With heat pumps offering heat in the wintertime and air conditioning during the summertime, these units are used more than any other HVAC unit. Because of this, some heat pump experts suggest it's a good idea to schedule a cooling tune-up in the springtime and a heating maintenance visit before winter. To save on your maintenance services, we suggest you check our website for pre-season specials on heat pump tune-ups and heat maintenance service deals. Preventative maintenance needs to be performed at least one time each year on heat pumps. Annual maintenance protects the heating and cooling equipment from unexpected breakdowns and also helps maximize the lifespan of the equipment in addition to optimizing its efficiency and performance.
What is the average lifespan of a heat pump?
The lifespan of a heat pump is usually between 10 and 20 years on average. Some experts say 15 years is the overall average number of years. Nevertheless, there are several factors that contribute to the unit's performance — like the heat pump's maintenance record, how often air filters are being replaced and how well the unit was initially installed. Additional factors such as the location and total hours of operation also affect a heat pump's useful lifespan. Homeowners looking for peace of mind should ask our heat pump installation experts about our amazing warranty coverage. As with any warranty, however, homeowners need to make sure a qualified, experienced, licensed and insured technician such as Madeira Heating & Air installs the unit and performs regular maintenance.

HVAC FINANCING
Buy Today, Pay Over Time with HVAC Financing
Your local heating, cooling and air care experts here at Madeira Heating & Air have longstanding relationships with a wide range of creditors, lenders and respected financial institutions that we partner with to help you through the process. Our job is to help you maintain optimal home comfort year-round and make manageable monthly payments to pay for your new HVAC equipment. We understand how sometimes home comfort can't wait here in Ohio.
In short, our furnace financing, heat pump financing and A/C finance options are second to none.