Furnace Tune-up & Maintenance in Madeira, OH
Furnace maintenance is essential every year during the fall or early winter. Not only will it help you avoid furnace failure during the most frigid times of the year, but it also saves you money on home heating costs while prolonging the lifespan of your equipment.
At Madeira Heating & Air, our residential furnace maintenance service comes with an Expert Furnace Tune-Up, Furnace Inspection and Furnace Safety Check. We service all brands of heating systems, all types of furnaces. There isn't a heater we can't work on. Overall, maintenance is a great investment to make sure your furnace works optimally and it keeps your factory warranty active. Additionally, maintenance helps increase your home heating output, minimize energy bills and maximize efficiency in addition to decreasing the likelihood of a furnace breakdown during the wintertime.




100% Satisfaction Guaranteed
Schedule a Furnace-Tune Up + Safety Check
Your local furnace experts at Madeira Heating & Air want to help you keep your furnace firing on all cylinders like a well-oiled machine while saving you on heating costs and keeping your home safe at the same time — and at a fraction of the cost. 
A Furnace Tune-Up is when an HVAC technician comes to your home and cleans and inspects your heater and all related heating equipment. This helps identify areas of corrosion and pinpoint parts in need of replacement before they become a serious problem. A tune-up alone could instantly improve energy efficiency by up to 30 percent or more.
What happens during Furnace Tune-Up?
Check pilot assembly and ignition sequence

Check thermocouple or flame sensor

Check burner flame

Check humidifier and air cleaner

Check heat exchanger

Check for proper venting

Check fan control

Check safety device and electrical wiring

Check blower amp draw

Check belt (tension adjustment)

Check operation sequence

Check gas valve

Check and inspect circuit board

Lubricate all accessible moving parts

Check for overall safe operation

Carbon monoxide safety test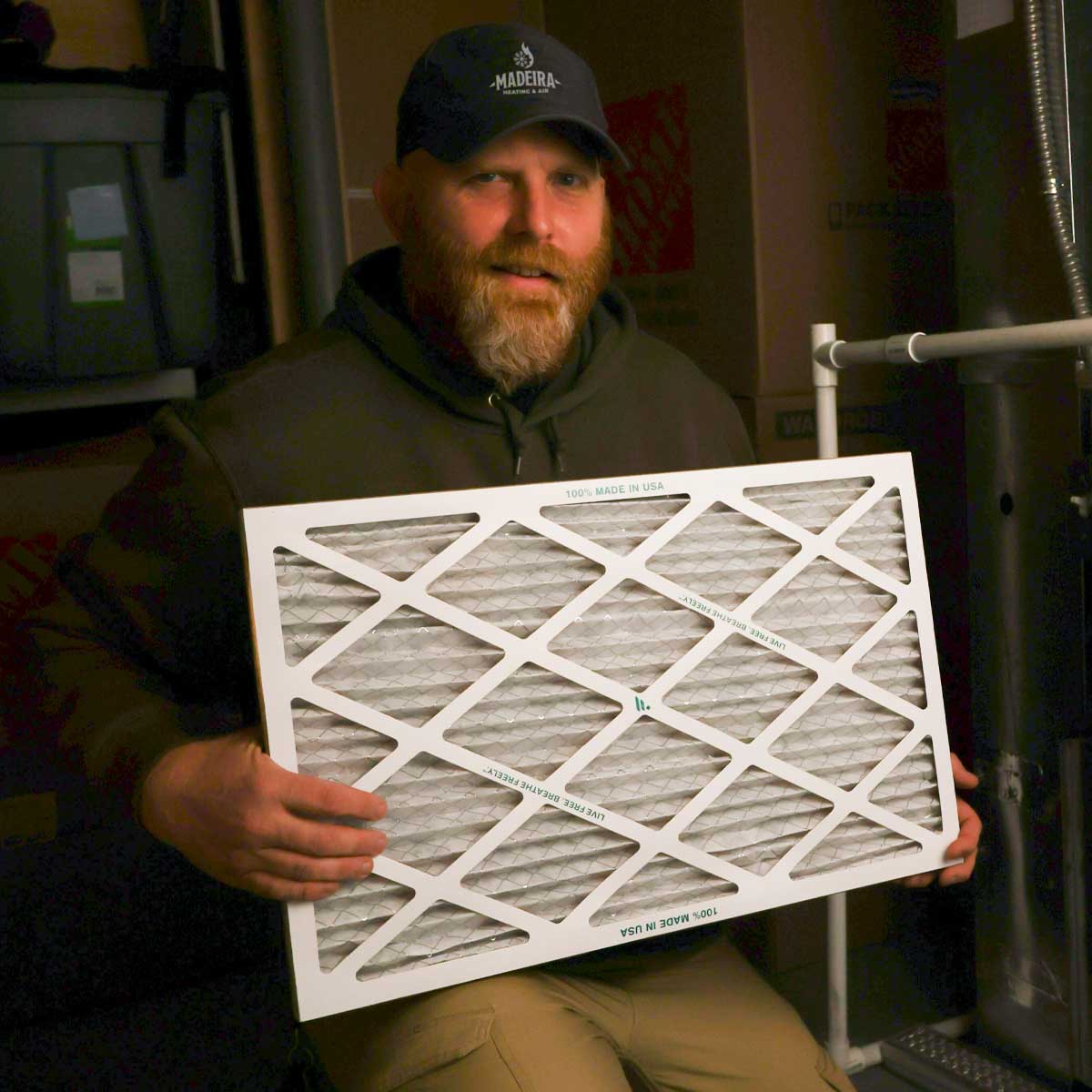 How to Replace Furnace Air Filters
How to Replace Your Air Filter
Replacing the air filter in a residential furnace is something every homeowner should know how to do. If the filter is dirty, this is probably the easiest and fastest way to maximize the furnace's efficiency. From start to finish, the whole process might take five to ten minutes at the most. You start by finding exactly what size air filter you need for your replacement filter. Basically, you'll be substituting the old air filter with a new replacement furnace filter. After you have the replacement filter, all you need to do is go through these straightforward steps:
Turn off your furnace
Find and locate your furnace filter
Determine the size of your air filter
Remove the old filter
Insert the new filter
Return furnace to "on" position
General Furnace Maintenance Questions & Answers
How can I avoid furnace repairs?
A homeowner's best defense to prevent future furnace problems is preventative maintenance. By properly maintaining your heating system, a heating technician can catch performance issues and give you the opportunity to address them before they cause breakdowns or system damage. This helps you to reduce wear and tear that causes system failures. The tasks performed by one of our furnace technicians during preventative maintenance appointments are effective in protecting against breakdowns while improving energy efficiency and home comfort.
How do I keep my furnace running smoothly?
In addition to preventative maintenance tune-ups, keeping on-schedule with furnace filter changes also helps reduce the likelihood of furnace breakdowns and ensures proper airflow. A clean filter enables air to properly move through the system, helping the furnace operate more efficiently. When the filter is dirty, your furnace must work harder to move air, adding stress and increasing the likelihood of a surprise furnace repair.
What does a new home heating system/ furnace cost to install?
If not properly maintained, homeowners end up having to replace their furnace sooner than necessary. A new home heating system can cost anywhere from $1,500 to $7,200 or more, depending on the model you choose and the size of your house. The average cost of installing a mid-efficiency furnace is $1,500 to $2,500. Mid-efficiency furnaces have an annual fuel utilization efficiency (AFUE) rating of 80 to 89 percent.

4 Benefits of Heating System Maintenance

Makes Equipment Last Longer
Home heating systems are expensive to replace. We all want to make our furnaces last as long as possible. The best way to do this, and guarantee they're optimally running and useful for as long as possible is by utilizing seasonal maintenance. Without regular maintenance, furnaces last almost as half as long as they should, according to experts and manufacturers. This is something else to keep in mind: Installing a brand new system sooner than is necessary is going to be far more expensive than any maintenance visit you will ever have to make.

Maintain Factory Warranty On Furnace
Every time we install a new furnace, we provide our customer with a warranty from the furnace's manufacturers, which requires maintenance every year by an NATE-certified heating technician to remain valid. If the homeowner fails to have this done (even if they forget once), the warranty isn't any good. If this happens and something goes wrong, the customer is stuck paying for the repairs on own money. We say play it smart: Standard maintenance keeps the home heating system protected from some potential manufacturing flaws.

Avoid Furnace Breakdowns
Experiencing a furnace breakdown during the dead of winter is a nightmare. Ohio winters are known for being brutally cold. Nevertheless, an estimated 85 percent of the repairs performed on furnace breakdowns can be linked to a general lack of maintenance. This is why having maintenance done every single year during the fall or early winter will prevent the vast majority of the furnace repairs a homeowner will otherwise have to deal with.

Minimizes Residential Heating Costs
For furnaces to provide the heat, homeowners need to feel comfortable in their homes during the winter; your heating equipment needs to work consistently to meet your requirements. Like most appliances and machinery, it will begin to wear, tear, and strain when run continuously. In addition, the growth of dust, dirt, and other debris can develop over time in your furnace and ultimately undermine your equipment's general heating efficiency. However, homeowners can dodge the typical raise in-home furnace expenses. By giving your furnace the love and care they need, you can save on your monthly heating costs and prolong the life of your equipment.