Furnace Repair in Madeira, OH
If your furnace breaks down or you start having any problems with your home heating system  — Madeira Heating & Air is the company to call. We can handle all your residential furnace repair needs, no matter what they might be. We offer fast and affordable emergency furnace repairs every day of the year here in Hamilton County and surrounding areas — 24 hours a day, with affordable solutions to any sort of home heating issue.
The team of heating system repair technicians at Madeira Heating & Air is NATE-certified and friendly. They are trained to be fast, honest and ready to handle anything, no matter what type of system it is. We show up to your home promptly and — with your approval — perform all the necessary HVAC repairs right there on the spot. We repair pilot lights, heat exchangers, thermocoupling, thermostat inaccuracies, ignition problems, air filter replacement, and more. 




100% Satisfaction Guaranteed
Schedule a Diagnostic Service Call Today in Madeira, Ohio!
If your furnace is having problems, you need a furnace expert near you to figure out what's going on and exactly how to fix it. To pinpoint your furnace problem precisely without all the guesswork, you should call Madeira Heating & Air to schedule diagnostic services. Madeira Heating & Air offers diagnostic service calls at reduced rates with no obligation to pay to have repairs made.
If you're having an issue with your home heating system, give Madeira Heating & Air a call today! We can send you a NATE-certified technician the same day. Using the latest technology in diagnostic equipment, our local furnace experts carefully scrutinize your heating equipment to pinpoint the exact cause of the problem in a precise manner. After they've identified the source of the issue and any related concerns, they show you your various options for resolving it to move forward.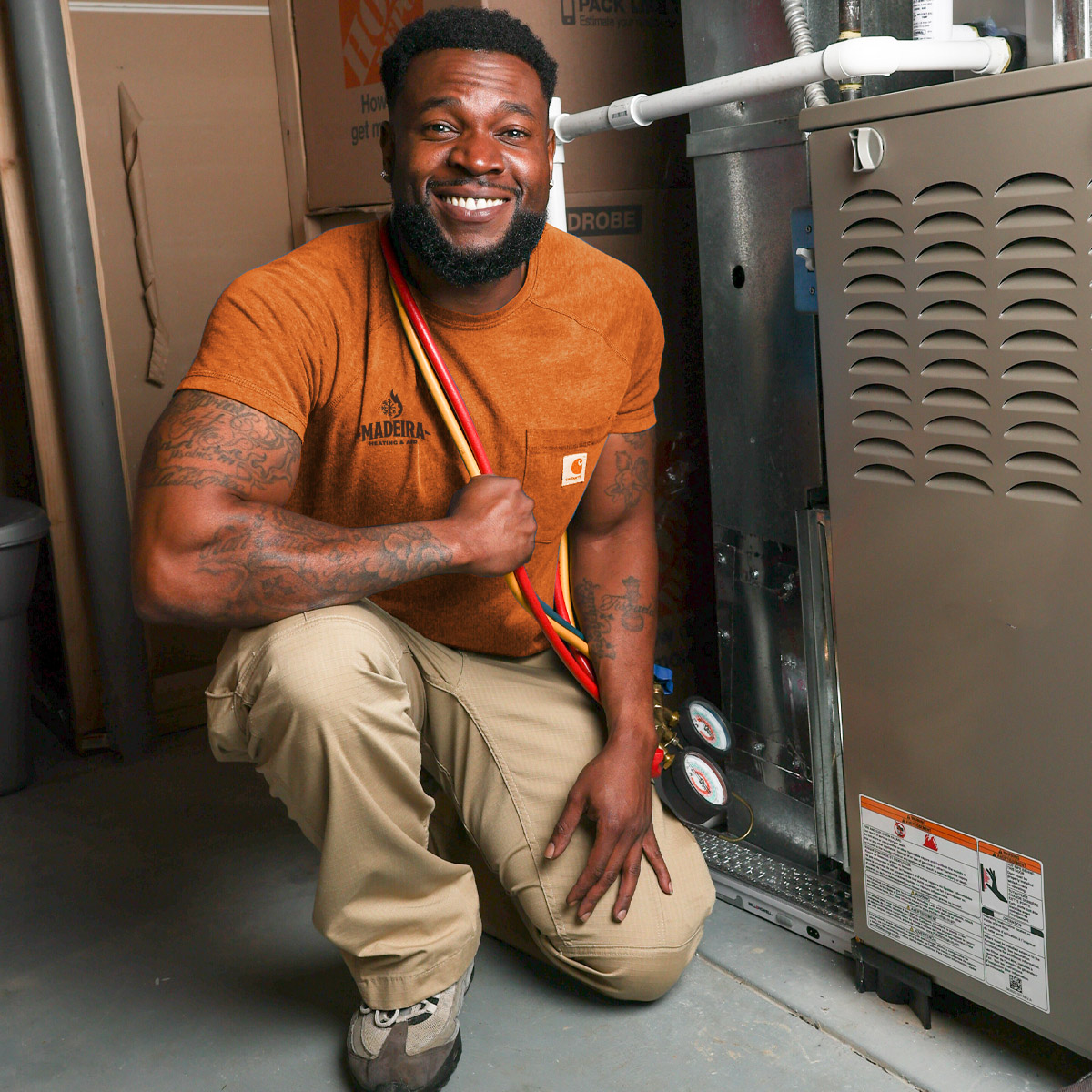 Why Choose Us?
When you need HVAC services that are top-notch and you want to save money in the process, you need to find a heating and air conditioning contractor near you that has a solid reputation with a proven track record of customer satisfaction. Home comfort systems are expensive complex machines that affect your monthly budget as well as the value of your home. This type of work always merits the expertise of someone who's fully insured and NATE-certified. It also merits finding someone who's reputable and who stands behind their work.
At Madeira Heating & Air, we care about your home's comfort levels and air quality. Our air care experts go the extra mile with homeowners here in Southwestern Ohio. Because heating and cooling are more than a job for us, we are always looking for ways to serve our customers better and provide more value at the lowest prices possible with in-house financing and payment plans that are flexible and affordable.
Emergency Furnace Repair Experts in Madeira, OH
Home heating system breakdowns are urgent matters during the winter months when it's cold outside, especially here in Southwest Ohio.
If your furnace starts giving you problems when you need it the most, we have your back. Furnace repairs are always a simple phone call (or mouse click) away when you choose Madeira Heating & Air for any sort of residential furnace problem. Emergency furnace repairs are one of our specialties. When you call us with a furnace problem, our emergency furnace technicians are dispatched to you right away. Without it costing you an arm and a leg, they show up fast and fix your furnace on the spot, usually during the first visit. Madeira Heating & Air understands how a malfunctioning furnace can be a hassle, and even a safety hazard, during the winter months here in Hamilton County. Even if your furnace is running, if it's not heating your home properly or your energy bills are getting high, it's still a good idea to call a professional. Furnace breakdowns always constitute calling a furnace repair technician.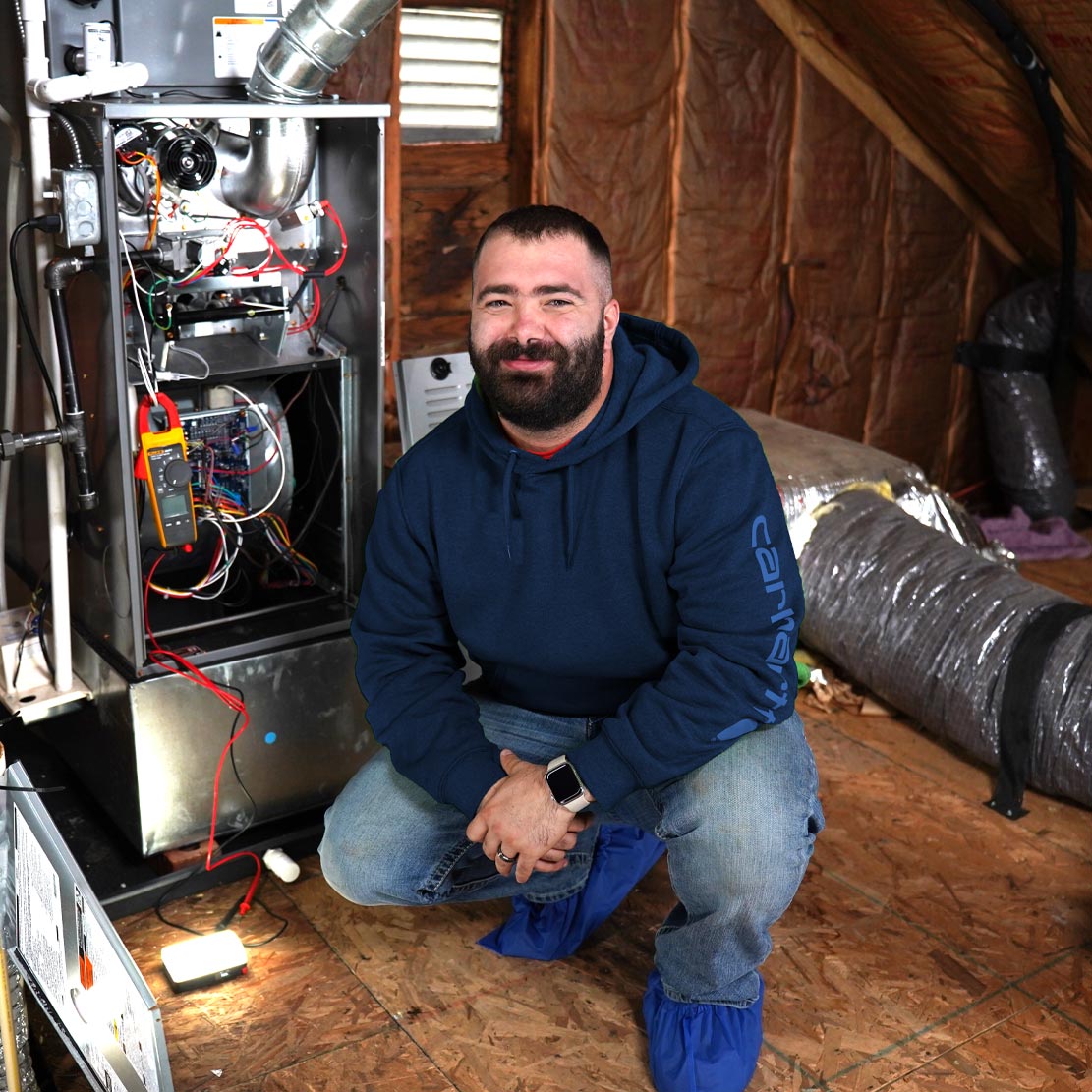 4 Signs Your Furnace Needs Repaired

It's An Older Heating System
Furnaces usually last, on average, around 18 years give or take. Nevertheless, when a residential heating system is around 15 years of age and it's been in regular use, it's bound to require more repairs in the same way an older vehicle with a lot of miles is going to need more work done. Having repairs done professionally is important, keep in mind, because it makes the system last longer and performs better.

Temperature is Unmanageable
If you're having issues managing your home's temperature and it seems like you are constantly adjusting your thermostat, it's probably not the thermostat's fault. Your furnace might be having trouble distributing heat throughout your home the way it needs to. The best way to figure out exactly what is happening is to call us and we will look at your thermostat and your furnace and all the various components to pinpoint the precise problem.

Heating Costs Are On The Rise
Poor home heating efficiency is a sign your furnace needs work. If it's not very old, it needs to be repaired. If it's older than 15 years, you might look at replacing it. If it needs to be repaired, there could be internal parts of the furnace that are worn out. If your home heating costs are increasing, we suggest giving us a call sooner rather than later so we can get to the bottom of it before it turns into something worse.

Strange Noises or Colors
If your furnace is making strange noises, sounds like rattling, banging, popping or squealing, this is a red flag. The same is true if your furnace's pilot light is anything but blue. Pilot lights should always be blue on gas furnaces and yellow pilot lights are a dangerous sign. You need to call us right away if your pilot light isn't blue and the same is true if your furnace is making unusual noises.
General Heating System Repair Questions & Answers
Why is my furnace blowing cold air?
If your furnace is blowing cold air, it's a problem. We need our heating systems for heat! So if it's blowing cold air, we suggest checking the furnace's fan settings first. This setting needs to be on "auto" and not "on." If this doesn't solve the problem, check your air filter to make sure it doesn't need to be replaced. If this doesn't solve it, check your pilot light. Beyond these areas you can check on your own, if you still have cold air coming out of your furnace, call us right away.
Why does my furnace keep running?
Here again, this issue could be caused by the furnace fan setting. Make sure your furnace fan is set to "auto" and not "on." if it's "on" it runs constantly even when there isn't heat. Additionally, you should check your fan limit switch, which requires manual override. If this doesn't solve it and your furnace is still continuously running, give us a call.
Why does my furnace keep turning off?
The most common reason a furnace turns off and on constantly, or short-cycle, is due to a dirty air filter. If this is the case, it's an easy fix. Otherwise you need to check your thermostat to make sure something isn't affecting its reading, like sunlight, a heat register, a heating appliance or a fire. Ultimately, short cycling can be caused by poor installation. If a furnace isn't sized properly for a home, it tends to short-cycle. Call us if this doesn't answer your question.

HVAC FINANCING
Buy Today, Pay Over Time with HVAC Financing
Your local heating, cooling and air care experts here at Madeira Heating & Air have longstanding relationships with a wide range of creditors, lenders and respected financial institutions that we partner with to help you through the process. Our job is to help you maintain optimal home comfort year-round and make manageable monthly payments to pay for your new HVAC equipment. We understand how sometimes home comfort can't wait here in Ohio.
In short, our furnace financing, heat pump financing and A/C finance options are second to none.