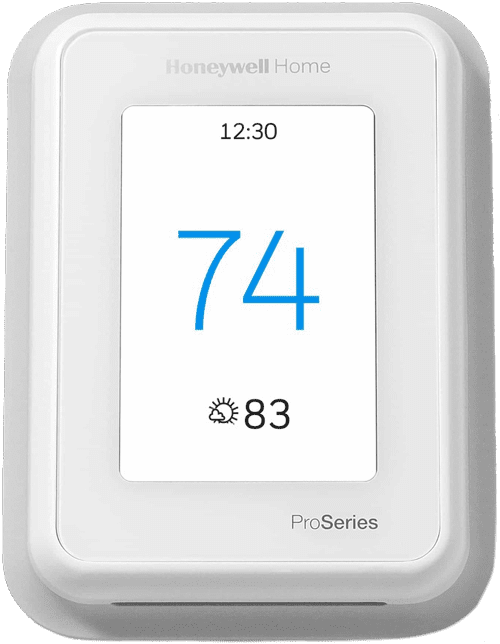 Smart Thermostat Installation in Madeira OH
Your friends at Madeira Heating & Air sell and install a wide selection of the HVAC industry's most sought-after smart thermostats and top-rated Wi-Fi thermostats at the best prices in Madeira and Greater Cincinnati area. And, as your top-rated local HVAC expert, customer satisfaction is always 100% guaranteed.
Because technology in the home comfort industry is constantly improving, HVAC manufacturers and HVAC contractors are constantly offering higher quality products to their customers. One example of this is today's smart thermostats, or Wi-Fi thermostats, which are far more convenient and useful than their predecessor, which is the programmable thermostat. These hi-tech devices give you complete digital control over your home comfort systems in addition to your air quality control systems. They are accessible from any location via your smartphone. They are also very smart home compatible. Smart thermostats learn a homeowner's daily routine and can automatically adjust themselves to save on heating and cooling costs while enabling you to monitor your home remotely.
What is a Smart Thermostat?
A lot of homeowners fail to realize how greatly thermostat technology has improved in recent years. The line of smart thermostats we at Madeira Heating & Air sell and install today are drastic improvements to the previous generation of thermostats, which were programmable thermostats. Although programmable thermostats are still useful and convenient, smart thermostats give you superior control of your house's climate, comfort level and indoor air quality. If you own a smart thermostat or wifi thermostat, you're able to adjust the temperature at any time from anywhere with a tablet, smartphone or other types of device with internet access. Additionally, a smart thermostat has innovative features, such as motion sensors, software and WiFi accessibility. These features help you improve any issues you might have experienced with programmable thermostats. They also help you save money on home heating and cooling and do much more. Because of this, we suggest upgrading to our low-cost options such as our Ecobee, Honeywell (with the Honeywell T6, T10), Google Nest, and Carrier Infinity.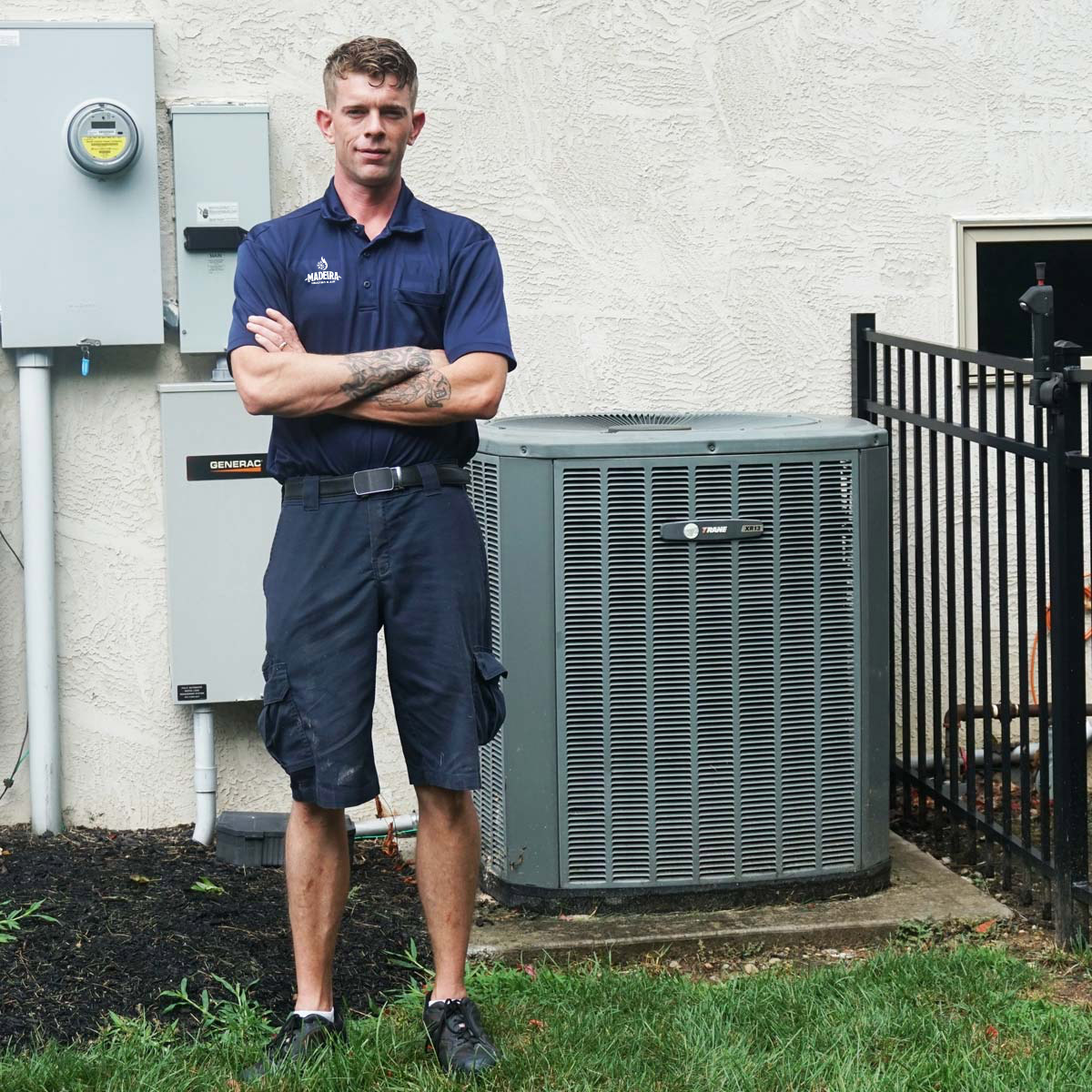 Wi-Fi Thermostat + Installation Deal
Are you looking for the best price on a smart thermostat or wifi thermostat for your home in the Madeira or Greater Cincinnati area? You're definitely in the right place! Madeira Heating & Air offers expert smart thermostat installation at the lowest prices in the region with customer satisfaction guaranteed. We have amazing deals and special discounts on smart thermostats and wifi thermostats that will save you money on heating and cooling and pay for themselves. But these special offers aren't going to last forever!
Smart thermostats are popular among homeowners in Southwest Ohio because they are affordable, very convenient and, most importantly, they lower your home's heating and cooling costs by as much as half. Our latest smart thermostat devices also come with some cool features to help automate and schedule your home's temperature setting adjustments. Additionally, these incredible devices monitor the ever-changing weather patterns common here in Southwest Ohio. 
Benefits of Thermostat Upgrade

Monitor Your Energy Usage & Save Money
Wifi-enabled smart thermostats like the Google Nest Thermostat and others allow homeowners to keep track of heating and cooling costs while utilizing various energy-saving features. In fact, Google actually awards homeowners who are able to cut back various "Leaf" badges for their successful efforts. To make this possible, most smart thermostats give homeowners user-friendly tips on ways to cut costs and be more efficient. They offer monthly energy reports that help with energy savings. Nest and Ecobee smart thermostats help homeowners keep track of their heating and cooling expenses with easy-to-read monthly reports as well. If you want to know how much your heating costs were for a specific month, you can have the device generate a report to show you.

Keep an Eye on Your Home
Having a smart thermostat installed by Madeira Heating & Air comes with another benefit worth considering. These smart devices offer homeowners a window into their homes when they are away. Just check the app that comes with the thermostat from anywhere in the world with access to the Internet. If you're away from home and want to make sure the heat is on or needs to be adjusted, this is priceless. If you own multiple homes or have a vacation home, smart thermostats are great ways to guarantee the HVAC unit is running the way it should without you needing to physically be there inside, in person.

Human Error is Taken Out of the Equation
Smart thermostats record when everyone comes and goes and predicts weekly schedules in order to regulate temperatures for optimal heating and cooling efficiency. They make money-saving adjustments when you leave and optimize comfort levels when you get home to accommodate you. Homeowners typically leave their home heating or air conditioning systems running all day (even when they're away) especially appreciate the way their new smart thermostats (like the Google Nest Learning Thermostat) help manage comfort levels in their home while also helping them save money on heating and air conditioning. The Nest is able to detect when you're gone and turns down the heat for you to cut heating costs.

Manage Your Indoor Climate Remotely
Whether you're just getting home from work, still in bed and not wanting to get out, in a different part of the home or you're in a different state altogether on vacation — as long as you have your smartphone or smart device with you, you'll never have a problem adjusting your thermostat! Thanks to their user-friendly screens, sharp design and helpful apps, our top-rated smart thermostats are extremely convenient and very easy for anyone to use, even if you feel you've had trouble with similar devices or technology.

What Temperature Should I Set My Thermostat?
Finding the perfect temperature setting for a thermostat to maintain an agreeable comfort level can be difficult if you have multiple people living in one place? If you're on a budget or trying to cut down on your home's heating and/or air conditioning costs, getting everyone to agree on a comfort level can be tricky. In order to help you find that ideal balance between energy savings and optimal comfort, we suggest the following thermostat tips:
Wintertime Thermostat Setting to Save on Heating Costs
While it may take some trial and error at first, finding that ideal wintertime thermostat setting is essential. In the HVAC industry, we have a rule of thumb for energy-saving thermostat settings during the winter months. Start by setting your thermostat at 68° F to see if that produces enough heat to keep you cozy. If it's still too cold, adjust it one or two degrees at a time. Each time you raise the temperature, remember to wait an hour at least to allow your heating system time to adjust. One thing that really helps is wearing warm clothing in the home so you don't need as much heat. With warm clothing like sweatpants, sweats or a hooded sweatshirt, you should be able to lower the temperature to 68 degrees without an issue. If this setting feels warm and you want to save more money, lower it one or two degrees at a time. Just remember it takes at least a full hour to adjust.
Overall Money-Saving Settings
Money-savings is the name of the game when it comes to keeping our homes comfortable without breaking the bank. Homeowners can save up to 10 percent off their overall home heating and air conditioning costs each year by adjusting the thermostat 7 to 10 degrees away from the usual comfort level setting for at least eight hours each day. Experts suggest trying to do this at night time or while they're sleeping and if possible during the day as well when everyone is away at work or school in order to maximize energy savings. We advise homeowners to have smart thermostats installed if they haven't already because a smart thermostat or wifi thermostat pays for itself in energy savings. These smart devices automate the entire process and make everything hands-free. Moreover, smart thermostats, in addition to keeping you far more comfortable at a lower cost, are relatively inexpensive and very easy to install. Call Madeira Heating & Air today if you'd like to save on heating and cooling.
Summertime Thermostat Setting to Save on Cooling Costs
Most homeowners like their homes nice and cool during the hot and humid months of summer here in Southwest Ohio. In fact, some like it much cooler and crisper than others.  Regardless, we all depend on our air conditioners during those dog days of June, July and August. We count on our A/C's to provide cool air and humidity relief. To get the coolest air inside a nice humidity-controlled home without it costing a fortune, homeowners have to find that right summertime thermostat setting. We suggest setting your air conditioner's thermostat to 78° F to enjoy cool comfort without it costing too much. Energy conservation is essential when you're spending on average $100 to $200 to cool your home. Once you've set it to 78 degrees, you can adjust it as needed and pinpoint that perfect temperature for you and your family. Don't forget you need to lower the temperature slowly and give it an hour or two to cool off before lowering it further.
Other Times of the Year
If you aren't interested in a smart thermostat for whatever reason, we strongly suggest at least getting a programmable thermostat. Programmable thermostats automatically adjust your home's temperature levels for comfort when you're awake and home. However, they still require all that manual input, which isn't a big deal. In any case, we strongly suggest installing a wifi thermostat because it is a far better investment. Smart thermostats and wifi thermostats monitor your habits and routine and they "learn" your schedule to help you maintain both comfort and energy savings. Plus, Wi-Fi® thermostats give you even more flexibility with comfort control from your smartphone, laptop or tablet. Our Wi-Fi thermostats must be connected to Wi-Fi for remote connectivity. You need an iOS® or Android® mobile device to use our app.
3 Tips to Improve Indoor Air Quality

Keep Up With Maintenance
Keeping up with preventative maintenance services is essential for not only equipment longevity and lower heating and cooling costs. It's also essential for home comfort and optimal indoor air quality. In fact, being proactive with your HVAC systems enables the equipment to run more smoothly and do its job effectively like it's intended and designed to. Being proactive always pays off in the long run and seasonal maintenance always improves indoor air quality.

Invest in Better Air Filters
Changing your HVAC system's air filters regularly is one of the most fundamental parts of owning one. Most homeowners know this. What many do not know is that the standard air filter, which is the one-inch fiberglass air filter, usually does nothing to clean the air or improve indoor air quality. It's merely intended to protect the equipment only. This means investing in a better air filter could go a long way in your home at improving your indoor air quality. If you have anything compromising your indoor air quality, this is something you should definitely consider.

Invest in an Air Purifier
Investing in a household air purifier from Madeira Heating & Air is a great option when you're looking for the most cost-effective method for improving your home's overall air quality. Air purifiers help home heating and cooling systems by removing dirt, mold spores, pet dander, dust, pollen, and other pollutants floating around in your home. This makes air filters last longer and while reducing the stress and strain from poor airflow caused by dirty air filters. Air purifiers also kill bacteria, viruses and other microorganisms while removing strange odors and chemicals in the air.
General Thermostat Questions & Answers
How long do smart thermostats last?
Ecobee, Google Nest and Honeywell are among the HVAC industry's best smart thermostats, all of which sell and install here at Madeira Heating & Air. These products are not only very affordable, but they're also made to last a long time. The lifespan of a smart thermostat varies based on a few different factors, like how it's being used and how well it's taken care of, the name brand of the product, the type of model, and the settings being used. Overall, experts say that the average lifespan of a smart thermostat should be at least 10 years. As long as there isn't any sort of damage to the device during its life and it's being used properly, you can make good use of your smart thermostat for much longer than that.
Are programmable thermostats as good as smart thermostats?
Smart thermostats and wifi thermostats offer you a lot more features and abilities than programmable thermostats. They can do much more for you and save you more. In fact, this is why they are referred to as being "smart." These hi-tech thermostats are intuitive and, well, smart. Smart thermostats and wifi thermostats work intelligently to manage your home comfort levels while also controlling all your indoor air quality systems day and night. They learn your usual schedule quickly for each day of the week. Then, they target times they know when no one is home and they reduce heating and cooling until you return. Once the thermostat knows when everyone usually comes and goes, it makes automatic temperature adjustments to save you money on heating and cooling costs.
What do I need to know about installing a smart thermostat?
Smart thermostats work in conjunction with your residential HVAC units to optimize your home comfort levels and indoor air quality while also reducing heating and cooling costs. Although they are hi-tech, they are very straightforward and user-friendly. Essentially, if you know how to use a smartphone, you can use a smart thermostat. Eventually, you'll enjoy having one in your home and enjoy using it because it allows you to control your home's temperature levels, even when you're away from home, by using your cell phone and your WiFi. A free application comes with every smart thermostat.

HVAC FINANCING
Buy Today, Pay Over Time with HVAC Financing
Your local heating, cooling and air care experts here at Madeira Heating & Air have longstanding relationships with a wide range of creditors, lenders and respected financial institutions that we partner with to help you through the process. Our job is to help you maintain optimal home comfort year-round and make manageable monthly payments to pay for your new HVAC equipment. We understand how sometimes home comfort can't wait here in Ohio.
In short, our furnace financing, heat pump financing and A/C finance options are second to none.